○ China celebrated its second National Security Education Day on Saturday by promoting anti-espionage awareness in schools
○ Military experts say China is now faced with a much more complicated State security situation than before
(Photo/Xinhua)
Counter-espionage, a phrase that may sound obscure to today's children, was used a lot recently as the government tried to ensure everyone takes China's security into their own hands on National Security Education Day.
Last Saturday, the first set of readers about national security aimed at middle and primary school students were officially published in Nanjing, East China's Jiangsu Province.
The books use easy-to-read language and comics to spread knowledge about national security, the threat apparently posed by spies and how to spot potential terror threats. It also contains games like "find the spy," to drum the concept of national security into students, as Jiangsu People's Publishing LTD (JPP), publisher of the books, told the Global Times.
The book release is just one of a myriad of activities that went on this National Security Education Day, the country's second. The new occasion is part of a broader official drive to deal with national security issues through societal and legal means. In November 2014, China implemented its first Counter-espionage Law. In July 2015, China's new National Security Law was promulgated.
This year, besides eye-catching street banners, community publicity events, vivid videos and graphs shared online that try to convince the public at large of the importance of national security, students from primary schools to colleges were specifically targeted by this publicity drive to mobilize them as a huge counter-spy force.
"We can never be too careful even in peacetime. Spies and secret agents might be all around us," Wang Dawei, a professor with People's Public Security University of China, told with the Global Times.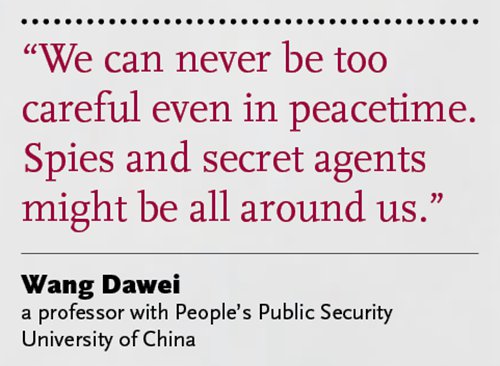 Nationwide education
The books recently published in Nanjing, which draw their content from the National Security Law, Counter-espionage Law and the Anti-terrorism Law, have been seen by the publishers as touching on a subject that many young people are unfamiliar with.
Even though espionage cases make headlines from time to time, it is hard for students to relate these cloak-and-dagger stories to their own lives. These books seek to make these abstract concepts specific and touchable.
"The books went through tests and amendments in the past year, and will be used on a large scale from this year on," the publishing house revealed, "It is very trendy for middle and primary students to receive this kind of education given the increasingly complicated world situation."
Students at Central China Normal University, in Wuhan, Hubei Province, received a lecture about their role in ensuring national security from Shao Yongling, a senior colonel from the People's Liberation Army Rocket Force Command College who specializes in intelligence, three days before National Security Education Day. The event, which was broadcast live in all Hubei schools, was viewed by 1.53 million college students and 5.52 million primary and middle school students.
Shao focused on trying to persuade the students that threats lie all around them. She cited specific cases, and even talked about how scanning a QR code to unlock a shared bike can lead one into serious trouble. A lot of students, convinced by her lecture, posted to Sina Weibo afterwards to let the world know that they now realize that national security is an issue close to their daily lives.
Charts produced for National Security Education Day by State media also tried to have this effect.
In one chart produced by newscctv.net, readers were given definitions of a spy, what kinds of people are vulnerable to manipulation by foreign governments and how agents of overseas intelligence agencies may set traps or lure people to work for them.
"It is very necessary to carry out national security education. How to keep secrets should be part of the curriculum and every kid should be endowed with this quality, just like they have scientific education," said Wang.
Complicated situation
This education drive has started partly because China is now faced with a much more complicated State security situation than before, according to Li Jie, a Beijing-based military expert.
"The infiltration of hostile forces like terrorism, separatism and extremism, and the high-tech and covert means spies use to obtain intelligence have all made the security and counter-espionage situation difficult," explained Li.
Since April 10, the National Security Bureau of Beijing has offered a reward of 500,000 yuan ($72,600) to people who provide tip-offs that play a role in countering spies. A vivid cartoon that can be easily understood by kids was also made by the bureau and widely circulated.
As the bureau explained in a press release, since reform and opening-up began, exchanges with foreign countries and the number of people entering and exiting China have both been increasing. The bureau said that overseas intelligence agencies have taken this as a chance to intensify their activities in China.
The reward policy stresses that the government sees ordinary people as key to the fight against espionage.
In a recently exposed case, this January, a fisherman surnamed Zhang found a device covered in foreign writing while catching fish near the Yellow River in Lianyungang, Jiangsu Province. Knowing his discovery might relate to national security, Zhang and his friend Wan called the authorities and the device was found to be a tool used by overseas agencies to collect data.
"Counter-espionage has not been mentioned for a long time, and the society is kind of dumb about it, so many big cases appeared in recent years. For a long time we have emphasized the economy, production and foreign relations, and kind of ignored education in this aspect," said Li. "But remember, our enemies are not sleeping."
"Peace does not prevail across the world. Our enemies are not dead. We just cannot relax our vigilance," added Li.
Picking up the young
For today's young people that have grown up in peacetime, worrying about national security may seem strange. But to people who grew up in 1950s and 60s, who were told to be on constant lookout for spies, this round of national security education is nothing new.
Classic Chinese movies often have ordinary people's vigilance toward espionage as a theme, portraying common people as being so cautious and incisive that spies were inevitably foiled. Some middle-aged netizens posted online around National Security Education Day that they used to play "spy-catching" games in their childhood.
"After the founding of the People's Republic and till the late 1960s, anti-spy consciousness was deeply rooted among the people," Li told the Global Times.
"We had education in this aspect at that time, about fighting against special agents and spies. But this education was slackened for people born in the 1980s, 1990s and 2000s. It is mainly because patriotic education has fallen behind," Wang, who was born in 1957, said based on his personal experience.
In the midst of this education drive, many netizens have expressed their support for education to keep the common people on their toes.
"Take it seriously please. When China and Japan came into conflict [in 2012 over Japan's "nationalization" of the Diaoyu Islands], there were overseas organizations attempting to stir up disturbances in a neighboring university," a netizen named Mengxiangjiaxiaosi wrote on Sina Weibo. She explained to the Global Times that after these events, she realized spies could be around her from then on. She declined to reveal which "overseas organizations" were stirring up trouble.
Still, there are people who do not take the government's warnings about spies seriously. "I'm gonna catch the spy but … give me a gun first," one netizen joked.
News portal huanqiu.com conducted a survey in 2009 about national security, in which 81.4 percent of the nearly 6,000 respondents agreed that the anti-spy situation is more challenging than before, and 95 percent said that Chinese people are bad at keeping secrets.
Lucy Ma, a university student in Beijing, told the Global Times that her peers have little awareness of national security issues. "We generally even don't know what kind of information is related to national security, to say nothing of being sensitive and cautious about it."
"Now many people take and post pictures wherever they like without thinking, and some may involve confidential stuff. It shows a lack of secret-keeping awareness. Overseas spies and hostile forces can easily collect such information," Wang stressed.
"The new generation lacks sufficient education in secret-keeping and patriotism. Every one of us should develop good habits when it comes to keeping secrets," Wang added.
But Ma added that students are likely to be more aware of these issues than other parts of society, since "there is education about national security at college."
"It is true that all of society needs to strengthen its awareness about national security. At least, we have started to work on it on campus," noted Yang, a teacher from a Beijing-based college.