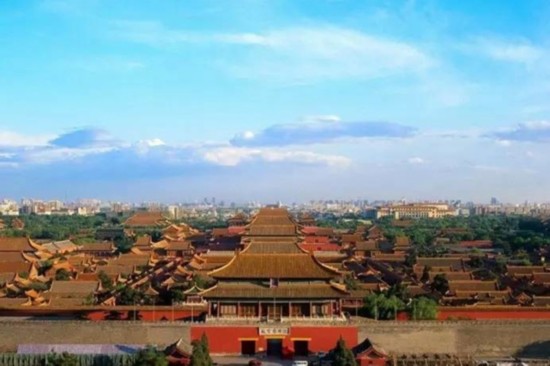 Aerial view of Palace Museum [File Photo]
Beijing will enhance the protection of its historical and cultural heritage as well as old town and try to restore the "one axis, one line" landscape, according to the cultural relics work conference of the city held recently.
Beijing will restore the "one axis, one line" landscape, strengthen the integrated conservation of its old town, speed up the conservation of traditional looks in areas where Palace Museum, Temple of Heaven and Bell and Drum Towers are located, protect and make use of the historical scenery of "Three Hills and Five Gardens," and work out plans on the protection and utilization of Great Wall culture belt, Western Hills culture belt and Grand Canal culture belt.
Mayor of Beijing Cai Qi said that the rich historical and cultural heritage in Beijing should be well protected to improve its construction of Beijing as a national cultural center during an inspection and study on the protection and application for world heritage of the Central Axis of Beijing.
As an important component of the old town of Beijing, Dongcheng will build six main traditional culture areas including Nanluoguxiang and the area between Dongsisantiao and Dongsibatiao and try to renovate 80 percent of its historical and cultural blocks. Xicheng will strive to vacate and renovate a batch of key historical buildings especially guild halls and former residences of celebrities registered as cultural relics.
Liu Yuzhu, director of State Administration of Cultural Heritage, expressed that the State Administration of Cultural Heritage would provide more supports for cultural heritage protection within the construction regions of Beijing's sub-center and 2022 Winter Olympics as well as the establishment of cultural heritage protection projects in Beijing.