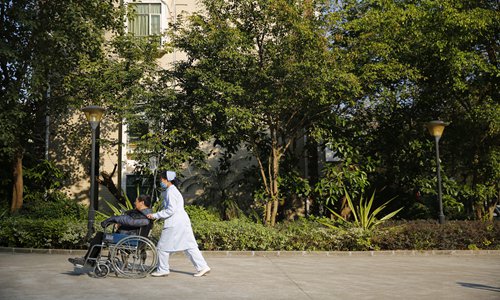 A nurse pushes Xin Yue in a wheelchair at a hospital in Huizhou, South China's Guangdong Province. Photo: IC
  Xin Yue (right) and her wife Leng Rui (left) Photo: CFP
At the age of 72, Xin Yue decided that it was time to realize a lifelong dream: to become a woman.
Two days after Valentine's Day, Xin, a Beijing local, went to a hospital in Huizhou, South China's Guangdong Province, to undergo breast implant surgery and construction of an artificial vagina.
As every surgery has its risks, especially for elderly people like Xin, her wife Leng Rui was anxious about the outcome.
To her relief, Xin survived the hours-long operation.
"I didn't think too much [about Xin's decision]. All I wanted was for her to be happy," she told the Southern Metropolis Daily.
According to a guideline issued by China's health authorities in 2009, patients first need to get approval from their direct relatives if they want to undergo sex reassignment surgery.
The couple also has a daughter now living abroad, who also expressed her support.
"She even joked that later she would have two mothers," said Xin.
Xin hasn't encountered any problem in her gender change. After living with her wife for 47 years, she said they have already become "bosom friends."
Traditional life
Xin grew up with two brothers in a traditional family. Her parents had wanted a daughter, so when Xin was young, she was dressed like a girl.
They braided her hair and bought her colorful clothing and shoes. She also earned the nickname Erguniang, which literally means "second girl."
Xin recalled that she quite enjoyed this status, but when she entered primary school, she was required to dress like a boy and told to cut her long hair.
The changes made Xin quite unhappy. At school, she didn't like to play with other students and didn't go to the boys' washroom. Her favorite pastime was doing needlework at home.
Xin said that she didn't think much about being different from other people back then.
Xin met her wife in the workplace. Both loved music and arts, and were in a relationship for nearly three years before getting married.
According to Xin, being in a relationship at that time was a very serious thing. Kissing was forbidden, and even interlacing the fingers was considered an act of transgression.
The couple had their only child three years after getting married.
"At that time, the social environment was different. Traditional beliefs, family pressure and your economic conditions didn't allow you to have other choices," said Xin, explaining that's why she chose to marry.
Leng said that she has never regretted marrying Xin.
"Xin is talented and loves to read. If there is something that I don't understand, she can always explain it to me," she said.
Finding herself
The couple retired in 2000. Their life was supposed to be just like other retired couples', but this was changed by the popularity of the Internet. After retirement, Xin bought a computer and learned how to surf online, and later, did most of the surfing on her smart phone.
The Internet opened a new door for her. There, she met many other netizens who also wanted to change their sex. She met more than 1,000 people in an online forum for transgender people.
In the broad sense, being transgender means that one is not content with the gender one is assigned at birth. Some people undergo surgery to change their sex, or use hormones to change their appearance, while others choose to do nothing.
Xin started to consume hormones that increased estrogen levels, following the advice of some netizens in the forum.
As there is a lack of medical resources for trans people in the country and many are also too embarrassed to go to a doctor, they often gather in online forums and share their experiences of using hormones on their own for other people's reference.
But this does carry some risks. When Xin used hormones, she felt that her veins were blocked and something was wrong with her kidney and liver.
She did this without Leng's knowledge. It was only when she decided to undergo sex reassignment surgery that she told her wife.
Leng was shocked after hearing this, and even suspected that her husband may have had mental problems.
She took Xin to see psychologists, but they couldn't find a cure. On one occasion, when they left the hospital, Xin began sobbing and said she didn't want to go on living.
Xin became depressed and started wandering the streets at night, unwilling to stay at home. Seeing Xin's misery, Leng had no choice but to support her.
Xin underwent surgery to get rid of testicles in June 2015. After the surgery, she said she felt like she had lost dozens of pounds, and her mood improved.
But Xin didn't feel satisfied with this. In January of this year, she decided to go for the entire operation.
Before the operation, Xin was first required to pass a psychological test in a hospital in Shenzhen, Guangdong Province first.
The doctor asked Xin over 1,000 questions, many of them repeated. Xin scored more than 90 points on the questionnaire, and was then given approval.
With the operation over, Xin is now in recovery. "In the future, my wife and I can use the term 'sister' to call each other. We will still live together," she said, adding that she hasn't planned to change her identity on her ID card yet.
"My skin is still soft and white like a woman in her 20s. I feel I'm only in my 30s and I can live to 100 years old."