Residents in Beijing who opt to have their cremains (cremated remains) buried in an eco-friendly way in the city will not be charged from this year, authorities in Beijing say.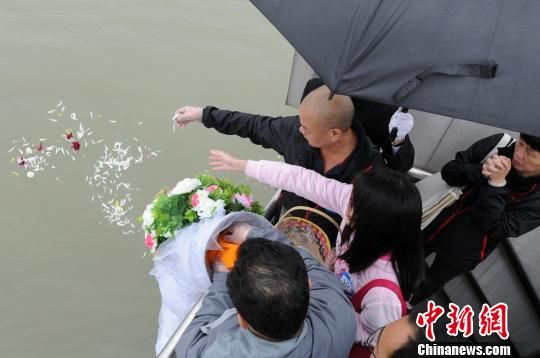 People scatter petals and cremains of their diseased family members into the sea in Fuzhou, southeast China's Fujian province, March 28, 2013. [Photo: Chinanews.com]
A natural burial section has been built in Beijing Changqingyuan Cemetery, which provides free degradable urns and cremation ceremonies for the city's registered permanent residents.
Li Hui, director of the funeral service unit of Beijing Municipal Bureau of Civil Affairs, said the "green" burial of cremains involves burying remains or degradable urns containing a diseased person's cremains in the earth.
Trees, flowers or grass will be planted in the area, and no tombs will be built, Li said.
A QR code that contains personal information and photos of the departed will also be created, so their families could use reader on a mobile device to obtain information.
Li said under a "green" burial, a one-square meter plot in a cemetery can accommodate the cremains of 10 people; while under a traditional burial, a one-square meter plot can only house one or two cremains.
A government subsidy of 4,000 yuan (about 581 USD) will be provided for each funeral service carried out under the new policy.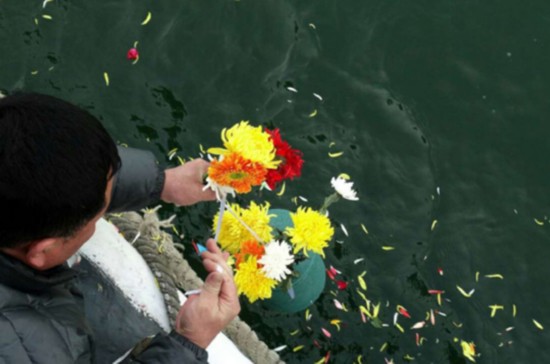 A man scatters cremains of a diseased family member into the sea in Shenyang, Northeast China's Liaoning province. [Photo:Shenyang Daily]
The policy was announced during a news conference on tomb sweeping services in Beijing on Tuesday.
To save land resources, the Beijing government has been actively promoting "green" burial of cremains, such as "tree burials" and "sea burials" in recent years.
Natural burials of cremains have been gaining popularity in the city as a result. Green burials occupied about 46 percent of all funerals in 2015, and the number of sea burials exceeded 2,000 in 2015 and 2016, according to media reports.
Natural, or green burials involve returning a body to the earth in a natural way, such as placing it in a casket or a shroud (instead of embalming or cremating it) and then burying it in a green space, according to the Natural Burial Association in Canada.