Will open bases in Yunnan, Xinjiang to support Chinese firms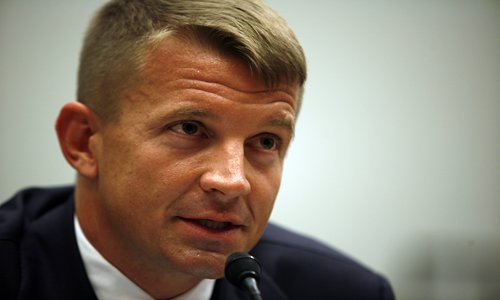 Erik Prince Photo: CFP
Military company Blackwater's founder plans to build new bases in China, a move to support the One Belt and One Road initiative.
Frontier Services Group (FSG), a company that helps businesses operating in frontier markets overcome complex security, logistics and operational challenges, is planning to built two operation bases in Northwest China's XinjiangUyghur Autonomous Region and Southwest China's Yunnan Province, Erik Prince, executive chairman of the firm, told the Global Times in mid-March.
Prince, 47, is better known as the founder of the private military company Blackwater, now known as Academi, which provides executive security services and specialized training. It is reported that the over 5,000 Blackwater employees were working in nine countries at the company's height. But Blackwater changed its name and sold itself to other investors in 2010 due to its involvement in the Iraq War.
Prince also has close ties with high-level US officials. For instance, he is brother to the new Education Secretary Betsy DeVos, and a frequent Breitbart radio guest of White House power broker Stephen Bannon.
  One Belt One Road
Regarding his new operation in China, Prince told the Global Times that "in late 2016, FSG has expanded its geographic focus from purely Africa to include the Northwest and Southwest corridors of the One Belt and One Road initiative."
"The Northwest corridor includes the countries of Kazakhstan, Uzbekistan, Pakistan, Afghanistan and the Southwest corridor includes Myanmar, Thailand, Laos and Cambodia," said Prince, adding that "the planned new facility in China's Yunnan Province will allow FSG to be able to better serve companies in the Southwest corridor. Subsequently, FSG will be opening a training facility in Xinjiang to serve businesses in the Northwest corridor."
Wang Dawei, spokesperson of FSG, told the Global Times that the Yunnan base will be operating within this year while the one in Xinjiang is projected to start operation in 2018.
FSG's main service is to provide Chinese customers logistical support to get in and out of African danger zones, Prince told Bloomberg in 2015.
"Africa is an important destination for Chinese investment ... We believe our team's local knowledge will greatly benefit Chinese clients," said Prince.
FSG is betting its future on serving Chinese companies, which Prince says are unprepared to help employees who suffer accidents or violence overseas, Bloomberg reported in 2015.
Wu Xinbo, director of the Center for American Studies at Fudan University, told the Global Times that the security services for Chinese overseas enterprises should be bolstered to better implement the One Belt and One Road initiative. It is advisable for China to draw experience from private US companies, said Wu.
Chinese companies desperately need overseas protection services, Li Jiang, director of the international affairs department in the China Security and Protection Group, told the Global Times, adding that Chinese security service companies lack advanced management theories.
  Different from Blackwater
However, FSG's operation in China and Prince's background have sparked controversies back in the US, with some media, such as Buzzfeed News, suspecting Prince's business in China "could put him at odds with President Donald Trumpand could also risk violating US law," in a report on February 17. The Activist Post reported on February 22 that Prince is bringing Blackwater to China, accompanied by a composite photo of Prince and Chinese soldiers.
Prince denied the accusation that FSG provides Blackwater-type armed security services. He said that the only thing FSG and Blackwater share in common is his involvement. "FSG employees do not carry guns and therefore do not provide any armed security services," said Prince, adding that unarmed security includes close protection, analytics, intelligence and risk assessments.
When asked if his business in China seems to conflict with the China policy set by Trump and Steve Bannon, Prince said that "FSG activity is completely separate from the US administration. We do not see any conflicts between our business and the US administration."
He added that One Belt and One Road initiative is FSG's main focus right now. "I am very familiar with the policy and believe it will transform trade across the world in the future. Trade and infrastructure are extremely beneficial to all nations. I do not see any conflict with US strategy," said Prince.
Some media cast doubt on Prince's business in China. The Intercept reported in March 2016 that the US intelligence has been monitoring Prince's communications and movements for a year and that he has close ties with Chinese government.
However, Prince said that he greatly respects Chinese companies' attitude toward frontier markets. "Chinese companies have been leading the way in developing frontier markets in recent years. This will increase with China's One Belt and One Road initiative and we look forward to supporting them," he said.
The Intercept's report was also criticized by Wu, who said that some Western media have the wrong idea that anything involving China is bad, so Prince's cooperation with China is also bad.