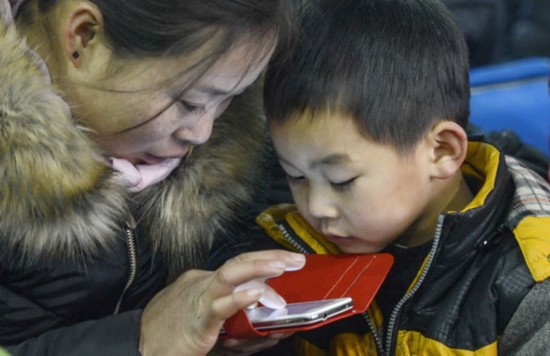 A woman uses instant messaging service WeChat in Hangzhou, Zhejiang province. HAN CHUANHAO / XINHUA
Popular brands, including Burberry, Mulberry, British Airways and Durex, are among British companies successfully using instant messaging application WeChat in the Chinese market.
Christopher Bailey, Burberry's chief creative officer, said: "WeChat opens up a huge new world of opportunity in the digital space. The exciting thing for us is the deeper and more meaningful way that we are able to tell our stories using this platform."
Burberry lets users view London Fashion Week catwalk shows on the app, listen to translated interviews with executives, and snap up digital vouchers and promotions.
British companies know they can reach Chinese consumers through social media. In 2016, WeChat had 768 million daily logged-in users, and 60 percent of Chinese shoppers searched Weibo, China's equivalent to Twitter, for brand information.
But cracking Chinese online platforms is a tough task. Many Western brands have learnt the hard way that engaging Chinese users is not as simple as copying and pasting a translated post from Instagram or Facebook.
While British people might use Facebook to connect with friends, Twitter to share an article, and Apple Pay to buy a coffee, Chinese users might rely on WeChat to do all of them, and more.
Anne-Marie Verdin, brand director at Mulberry, said: "We are constantly looking for new platforms to communicate the depth and breadth of the Mulberry brand and tell the Mulberry story to our consumers.
"WeChat's advanced functionality and prominence in the daily lives of consumers means this will be a central tool to communicate with our audience in China."
Despite such success stories, WeChat is not a surefire way to crack the Chinese market, according to Domenica di Lieto, CEO of Emerging Communications, a digital agency with offices in London and Shanghai.
"There is a lot of misunderstanding about WeChat, people think it's the holy grail," said Di Lieto. "WeChat will only work if you've built up a following in the first place."