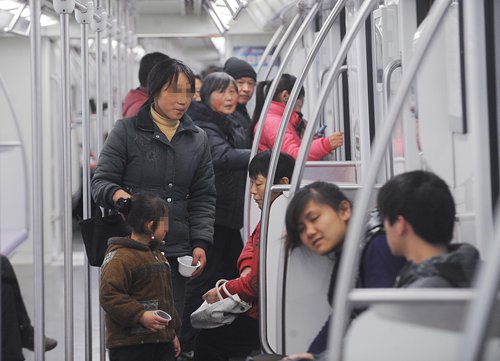 A child and her mother beg in a subway car in Shanghai on February 10, 2011. Photo: IC
Beijing's transport authorities said on February 9 that a recent anti-begging campaign found that in the 20 cases they busted, 17 of which involved children, around a third of the beggars came from one Gansu county, home to "China's No.1 beggar village."
Just after the Spring Festival holidays, pictures of many children begging on the capital's subway went viral. Some Sina Weibo posts claimed that these children, led by women, kneeled down and tugged at passengers' clothing until they received some cash.
The Beijing Railway Corporation said that over one-third of the children caught in their sweep were from Gansu's Minxian county, home to the infamous Xiaozhai village, and that they were taken to the city by their parents to beg over the holidays.
The Minxian county government responded on its official Sina Weibo account on Saturday, claiming it is paying attention to the situation and has sent a team to Beijing to persuade the beggars to return home. Moreover, the local civil affairs bureau and education authorities will also formulate a plan to offer training to the adult beggars.
Previously, residents of Xiaozhai were well known for making so much money from begging that they were able to build themselves new homes, a feat which led to them being nicknamed the "No.1 beggar village" by the media.
However, local officials have argued that the village has made great efforts to stop begging, and that many beggars simply claim to be from Xiaozhai.
Bad reputation
Since 2004, the national media has reported on Xiaozhai. Some reports have claimed that 80 percent of the villagers are beggars. Reportedly, they beg in northern China in summer and southern regions in winter, only returning home when they are needed on their farms.
As the village's farmland is very poor, they find it difficult to make a living from farming. Moreover, there are few opportunities in western China.
Stopping begging has become a major task for the local government. For 10 years, they have tried to persuade young people to work in the Inner Mongolia and Xinjiangautonomous regions and that "working for money" is better than begging.
Photos posted online show that banners reading "stop kneeling down, stand up" and "stand up, live with dignity" can be seen in Xiaozhai.
The township of Zhongzhai, which administrates Xiaozhai, told the China Youth Daily that no villagers begged last year.
A villager surnamed Li said that some beggars identified as Xiaozhai locals in reports were not from the village.
"The local government has done a lot of work and Xiaozhai village has changed. We always face discrimination due to biased reports," said Li.
Beggar outpost
Beijing has been plagued by beggars for many years. For years, over 100 beggars from different parts of the country rented bungalows in Jindingshan village in the suburban Shijingshan district, as the village was next to the terminals of the subway's busy Line 1. But most of them moved on when the bungalows were demolished by the local government in 2014.
But there are other well-known beggar villages in Beijing. For example, Pingxifu village in Changping district is sometimes home to a group of beggars from Gansu who bring their children to the capital city during the holidays to beg and then all head back west when the new semester starts.
In recent interviews with local residents, the Global Times was told that there were about 10 beggars from Gansu living in the village. Locals said some of them seemed like a family and they rented a house for about 500 yuan ($73) a month.
"They were like office workers. Every day, they usually went to work at 8 am and got off at 6 pm. They would put on some make-up, especially on their children, and it was obvious to people that they were poor and miserable," a gatekeeper at the village entrance told the Global Times.
"Some of them pretended to be disabled. When they got off the bus and entered the village, they would put away their canes," said one resident.
The Global Times reporter tried to interview members of this beggar group, but was told by their neighbors that they had gone back their hometown as the new semester has started.