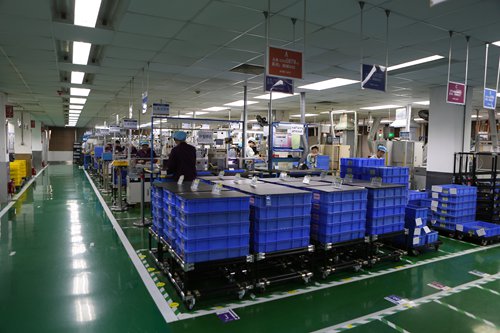 Workers are busy at a production line at Panasonic Motor (Zhuhai) Co, the first wholly-owned subsidiary of Panasonic Group in China, located in Zhuhai, South China's Guangdong Province. Photo: Chen Qingqing/GT
The Chinese government has announced new policies to attract foreign manufacturers to the country amid an economic structural adjustment and global economic slowdown. Experts noted that as new advantages surface, China will remain an attractive destination for foreign investors, especially in the high-end manufacturing sector.
The comment comes after the National Development and Reform Commission(NDRC) released a series of policies on Wednesday, such as preferential land prices, to attract foreign direct investment (FDI) in the manufacturing sector.
China will continue to offer favorable land prices to foreign companies that invest in industrial projects encouraged by the government, and will also give priority in land supply to those investors, Zhao Chenxin, a NDRC spokesperson, said at a press briefing.
Local authorities should focus on manufacturing when they roll out policies to attract investment, Zhao said.
The country will also step up efforts to ensure that the policies under its Made in China 2025 program apply equally to both foreign and domestic investors as it strives to further open up the manufacturing industry, said Zhao.
Those measures, which are in line with a document released by the State Council on FDI in January, highlight the central government's agenda to "create a fair competitive environment for both domestic and foreign firms," as well as "introduce high-end foreign manufacturers," said Sang Baichuan, director of the Institute of International Business at the University of International Business and Economics in Beijing.
Under the cabinet's guidelines, the cost of land for FDI in encouraged industries is set at 70 percent the minimum grant price, which will be an "effective boost to foreign firms eyeing the Chinese market, as such scale of preferential treatment has almost vanished since 2008," Sang told the Global Times on Wednesday.
Economic adjustment
China has embarked on "a critical period of structural adjustment" for its economy, during which the cost of elements of production, such as land and labor, has surged in recent years, according to a statement on the NDRC's website on Wednesday.
In addition, penalty costs for fertilizer and chemical plants and medicine producers, which are large sources of pollution, are skyrocketing, Sang said.
Further, the opportunities fueled by the country's high-speed economic growth have also evaporated, said Liu Jianying, an associate research fellow at the Chinese Academy of International Trade and Economic Cooperation.
"While it is important to take an objective view on this path of economic development, we should also improve our investment environment, and encourage more FDI to flow into the central, western and northeastern regions," Zhao said at the press briefing.
Amid a global economic meltdown, dozens of state heads, like US President Donald Trump, have called for bringing manufacturing back home to create jobs, Sang said, noting that this also weighs heavily on China as it looks to retain its position as a "manufacturing harbor."
New advantages
However, experts dispelled concerns over whether FDI is fleeing China.
Some companies have withdrawn from China, like hard drive manufacturer Seagate which closed its factory in Suzhou, East China's Jiangsu Province in January. The movement of firms out of the country has resulted in a lackluster growth of FDI stocks in recent years, according to Sang.
"But most firms [that are leaving] are either cost-oriented or policy-driven, whose exits are mainly due to the loss of traditional advantages in manufacturing," Liu told the Global Times on Wednesday.
New advantages are budding, as China has built complete production chains and has a well-developed infrastructure, Liu said.
Meanwhile, the country "has cultivated a large pool of talent capable of bolstering research abilities in high-tech industries," which bodes well for attracting high-end foreign manufacturers, Sang said.
For example, leading US chipmaker GlobalFoundries announced Friday a plan to build a new advanced semiconductor factory in Chengdu, Southwest China's Sichuan Province, with an investment of more than $10 billion, according to a New York Time's report on Monday.
In 2016, China's FDI jumped 2.3 percent year-on-year to $139 billion, hitting a record high, Zhao said, citing a report published by the UN. The increase occurred during a period when global FDI fell 13 percent.