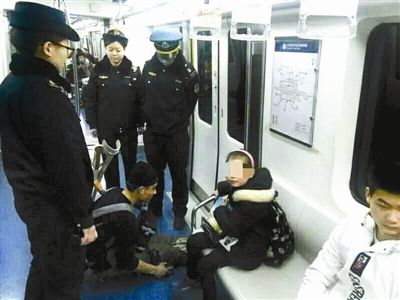 Law enforcement officers find a 'child beggar' on a subway train in Beijing. [Photo: Beijing Youth Daily]
Children have been used by their parents to gain sympathy and cash on subway trains in Beijing during their school holidays.
More than 20 'child beggars' have been found asking for money in different metro stations in Beijing by law-enforcement teams during the last two months.
Most of them are from Min County of Gansu Province, according to Beijing Youth Daily.
They come to Beijing with their parents and relatives during the winter holiday, and make considerable earnings.
The 'child beggars' can earn more than 200 yuan (about 29 USD) a day in the summer, and it is estimated that some children may make more than 10,000 yuan (about 1,453 USD) during their summer holidays (generally in July and August), a law enforcement officer told Beijing Youth Daily.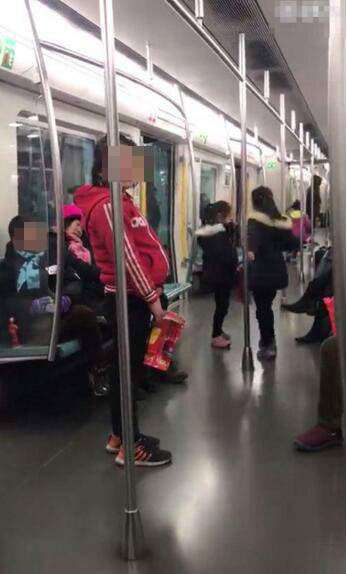 Photo shows a group of 'child beggars' on a subway train in Beijing. [Photo: news.china.com]
Their behaviors cause trouble for subway riders.
They ask the children to kneel on the ground and cry for mercy, or even clasp their arms around the passengers' legs or rummage in their bags to ask for money.
In order to avoid punishment, the adults sometimes ask the children to form their own 'working groups' and discretely give them working instructions.
Ma Xiang, from the Beijing Traffic Law Enforcement Team, told the Beijing Youth Daily that these people come to Beijing regularly every year during summer and winter school holidays and they share a strong sense of group identity.
"More than ten of them live together (when they are in Beijing), they go to work together every day and then scatter to different subway lines," Ma said.
"To prove that the children were not abducted as some citizens have suspected, they [adults] carry around their household registers and [the children's] birth certificates with them."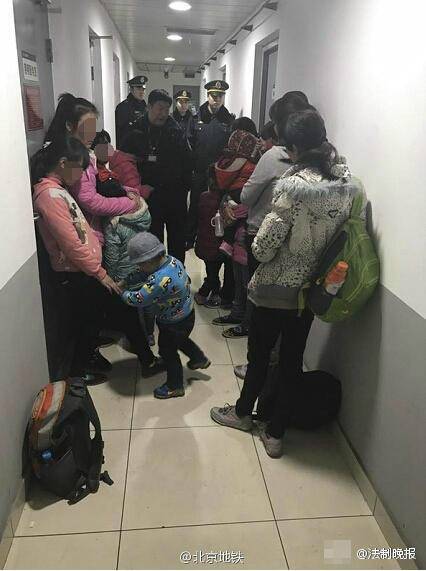 Law enforcement officers speak to a group of adults and 'child beggars'. [Photo: news.china.com]
Ma said it is not easy to solve the problem, as they cannot impose punishment on the children and they reappear on the subway trains time and again for the attractive profit.
Thus, different measures are being taken to tackle the problem at its source.
The Beijing Traffic Law Enforcement Team is going to corporate with the Min County government to solve the problem.
Ma said they are also hoping to contact these children's schools to ask them to educate their students, and they are considering going to Min County to investigate.
"We have been to Minquan County in Henan Province before to tackle this type of problem and formed a cooperating mechanism with the local government, it worked well," Ma said.