Beijing will invest 33.31 billion yuan (US$4.85 billion) this year in Beijing-Tianjin-Hebei coordinated development, according to the municipal finance bureau.
2017 will see the city rein in administrative operation funds while focusing on major missions planned to promote Beijing-Tianjin-Hebei integrated development.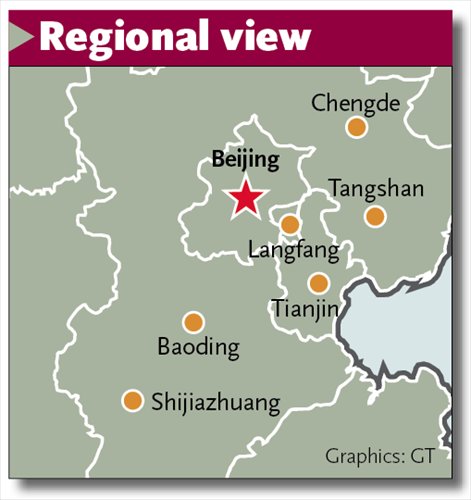 (Graphics: Global Times)
The main expenditure policies incorporate efforts to guarantee the package policies made for "Beijing, Tianjin, Hebei Joint Development Plan", speed up sub-center construction, increase support for Hebei Province, and give partner assistance to Xinjiang and Tibet, according to Han Jie, spokesman and deputy director of the bureau.
Details of the investment tell that 11.09 billion yuan will fund the new airport construction in an effort to boost the transport network in the Beijing-Tianjin-Hebei region.
A total of 11.81 billion yuan will be allocated to ensure trial operation of the new Tiantan Hospital and advance project II in Yizhuang branch of Tongren Hospital as well as new campus construction of Beijing Film Academy, Beijing Technology and Business University, etc.
Moreover, 4.25 billion yuan will be used for facilities establishment in administrative areas in the city's sub-center, and for upgrading of the green landscape along inner ring roads.
Beijing will use 5.7 billion yuan to assist oriented areas including Xinjiang, Tibet, Qinghai, Inner Mongolia and Badong, support Hebei and advance collaboration work of the South-to-North Water Diversion project.
Another 470 million yuan will be put into ecological forests construction.