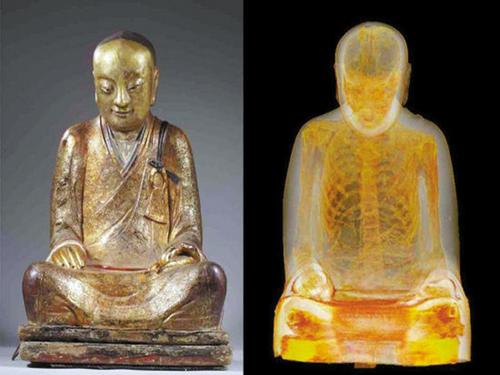 File photo of the stolen Buddha. [Photo: chinanews.com]
A Dutch court will hold a first hearing on July 14th for the case of villagers from China's Fujian Province seeking to reclaim a mummified Buddha statue from its Dutch owner, architect Oscar van Overeem, Chinanews reported.
The Buddha statue contains the remains of a mummified monk, and was enshrined and worshipped by both Yangchong village and neighbouring Dongpu village for thousands of years starting from the Song Dinasty (960–1279 AD).
In December 1995, the Buddha disappeared from its seat. 20 years later, the Buddha reappeared in public at an exhibition in Hungary. The Dutch collector then decided to withdraw the statue from the exhibition. After that, the Chinese villagers took legal action, striving to retrieve the long-lost Buddha.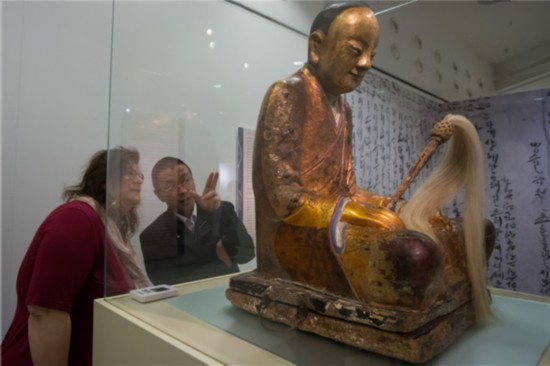 The Buddha statue on display at the Hungarian Natural History Museum in Budapest in March, 2015.[Photo: Xinhua]
In June last year, the case for retrieving the Buddha was taken to court in the Netherlands by a group of volunteer lawyers, including a Dutch lawyer, after van Overeem refused to return the Buddha to the villagers. The court later announced it will hold a hearing for the case but did not say when it will be held.
According to Dutch law, the hearing will be open to the public and the judge will hear statements from both sides, but a ruling will not be issued immediately on the spot.
The villagers' lawyers said the defendant and his lawyer have the right not to attend the court hearing, but if so, the defendant will lose the opportunity to orally elaborate his appeal and refute the information provided by the plaintiff. Therefore, Van Overeem should be attending the hearing but currently it is still unknown if he will actually do so.
Zheng Guozhen, vice-chairman of the Chinese Society of Cultural Relics, said if the results of the hearing meet the expectation of the villagers, it will establish a good foundation for the return of overseas Chinese cultural relics.
(Global Times contributed to the story)