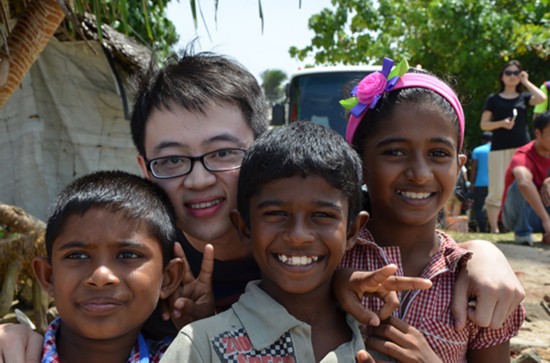 Chinese college students volunteer to teach at a kindergarten in the old town of Galle, Sri Lanka, organized by Ciweishixi. [Photo provided to China Daily]
This past summer, when most Chinese college students were dazzled by choices of holiday plans, Wang Chaodi jumped into one of the hottest travel trends, "voluntourism" for an unconventional holiday.
The Yunnan University junior spent three weeks immersed in African culture while participating in community service in Nairobi, Kenya.
"I want to go to the farthest end of the Earth to help people who are most in need," says the 22-year-old law student.
On weekdays, he taught elementary courses at an impoverished inner-city orphanage-a 300-square-meter space packed with houses, a feedlot and a ragged teaching shed-where "skinny students", as Wang puts it, have only a single outdated textbook to study from.
During weekends, Wang went on a safari to tourist sites including Masai Mara National Reserve and Amboseli Park, where he could observe exotic animals.
"Voluntourism", also known as volunteer tourism, combines volunteer work with travel. A global phenomenon, it is gaining momentum among young Chinese, especially college students.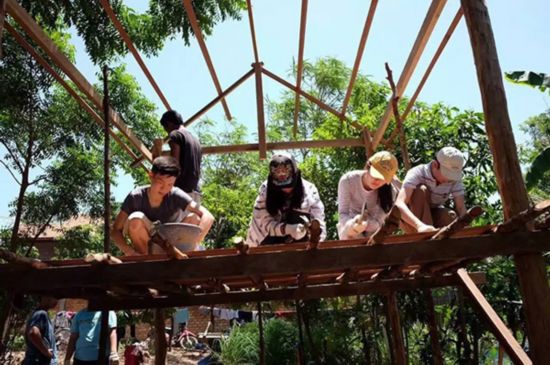 Young volunteers from China help Cambodian schools build facilities in Siem Reap, through WoW Education, a Beijing-based organization. [Photo provided to China Daily]
Last year, when Ciweishixi, a Shenzhen-based company for internship hunters, launched its new South Asia "voluntourism" programs, it attracted more than 250,000 applications, according to its founder, Li Yaping. Around 3,000 young people were admitted and took the trips.
"Young people today want a richer experience," Li says. "Instead of taking regular approaches such as interning at big companies, an increasing number of them desire to take unusual approaches to connect with the world."
The effects of the ever-present internet also contributes to this trend.
"The internet connects people by their fingertips, but degrades the interpersonal relationship in daily life," Li explains. "Voluntourism allows participants to engage with local communities and do things together."
Studies have shown that engaging in community service provides mental rewards. Volunteer work fulfills people's desire to give back, helps them reduce stress and fosters empathy.
  Su Yingle plays with a local child. [Photo provided to China Daily]
For the young, the benefit of international volunteering goes way beyond that.
Su Yinle, a 20-year-old sophomore at George Washington University, never expected that her international volunteer experience would have such a huge impact on her college application and her academic choices.
Before entering the college, Su took five trips to Siem Reap, Cambodia, to help local schools build facilities, through WoW Education, a Beijing-based organization providing students with learning opportunities through international service.
During her stay in Cambodia, Su gradually got to know different NGOs, gained insight into the regional history and started to question larger issues involved in that poverty-stricken country.
She later described her international volunteer experience in detail in her college application package. She even asked the program leader to write her recommendation letters.
"My volunteer trips in Cambodia played a big role in my college application," Su says. "I had in-depth experience related to international affairs. I enjoyed it, and I want to apply for related areas."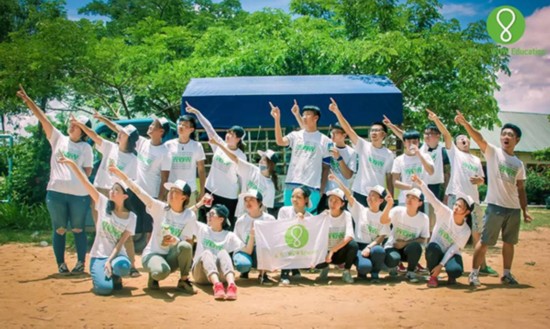 Young volunteers from China help Cambodian schools build facilities in Siem Reap, through WoW Education, a Beijing-based organization. [Photo provided to China Daily]
Admitted by several US universities, Su chose to go to Washington to study political science, where most US NGO headquarters as well as numerous international agencies are located, to pursue her academic passion.
"Volunteering in Cambodia was the tipping point for me," Su says.
Most such programs function like small enterprises, which not only require teamwork, commitment and knowledge of how the organization works, but also provide a showcase for leadership talents.
Zhu Tingxuan, 19, a freshman of New York University Abu Dhabi, attended high school in the US, where many of her classmates already had the experience of international volunteering.
Interested in seeing social enterprise through international volunteering, Zhu took two separate trips to Cambodia. On her second visit, Zhu stepped from being a regular team member to a group leader.
"I see how an idea becomes reality that actually helps people somewhere," Zhu says. "We are making a difference."
  [Photo provided to China Daily]
Zhu also enjoys interacting with local people, especially young students. "They just have the most innocent smile on their faces," Zhu recalls. She played traditional Chinese games such as "the eagle catches the chickens" with them. In return, they helped with some volunteer projects.
Zheng Kaifeng, former consultant and social media manager of Lonely Planet China, believes travel abroad as a volunteer is rewarding for the most part.
However, like any other expedition, "voluntourism" trips also come with potential safety hazards.
Jiang Jiazhen, a 21-year-old university student in Chongqing, enjoyed working as a volunteer teacher in Bali, Indonesia, last year.
But on a cycling trip to explore the island with friends, Jiang fell off her mountain bike. "One of my teeth was broken-my face was bleeding. I was afraid that my face was disfigured.
"I felt helpless, but the worst part was, I couldn't tell my family that was thousand miles away."
With the help of some locals, Jiang received medical treatment and recovered.
She says others on her team had accidents like being scratched by a monkey or stung by jellyfish, due to negligence.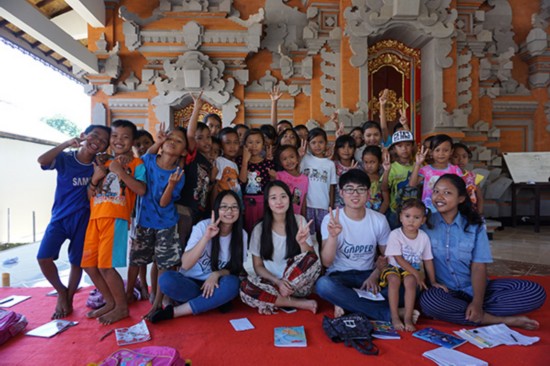 [Photo provided to China Daily]
Zheng says the core value of volunteer tourism is meeting people from diverse backgrounds. It's a chance to look beyond yourself and see new directions for your life, he adds.
However, with its rising popularity, such travel sometimes falls into gray areas. Some students simply use "voluntourism" trips to build their resumes en route to prestigious colleges.
Commercial agencies are also profiting from this trend. Some charge students several thousand yuan for sending them on whirlwind trips.
"We see more people embarking on volunteer travel trips for utilitarian purposes," Zheng says.
He advises young people to look for authentic opportunities and appreciate the spirit of the experience.
"If your volunteer trip looks more like a package vacation, you will end up gaining little in the end," he observes.
Volunteer tourism doesn't have to be international. Opportunities have started to spring up domestically. Activities proposed by NGOs range from conducting surveys in rural areas to safeguarding endangered animals and ancient villages.
"We wish young people would devote more attention to what's around them before looking overseas," says Li, the founder of the Shenzhen agency. "They can get to know more about the countryside, gain a deeper understanding of China and find future voluntourism opportunities in our own country."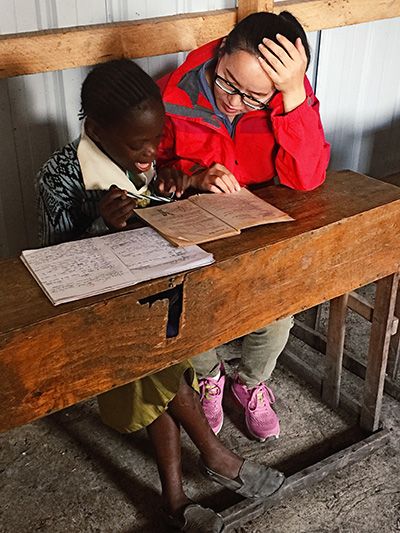 A volunteer helps a local child with her studies. [Photo provided to China Daily]
Making it happen
Volunteerism sparks adventurers' wanderlust while meeting their desire to make a difference. Don't know how to get started? Here's a guide:
Know your needs
Before planning your trip, ask yourself if you want to be a skilled or unskilled worker. Skills-based volunteering includes teaching, engineering and research while unskilled work varies from farming to wildlife conservation. Often, focusing your expertise in voluntary work yields more satisfactory results.
Where to go
According to Student Universe, one of the world's leading travel companies targeting the youth, Brazil, Peru, Zambia, Costa Rica, South Africa, Thailand, Kenya and Cambodia are some of the top destinations for volunteer tours.
Language proficiency
There is a misconception that you have to be fluent in the local language to volunteer: You can still do many things with limited language skills in a foreign country. Plus, immersion is one of the best ways to study a new language.
"You don't need to worry too much in terms of language before entering the country," says former Lonely Planet China consultant Zheng Kaifeng. "Volunteering abroad can boost your language skill as you are more likely to push yourself to think and speak in different languages."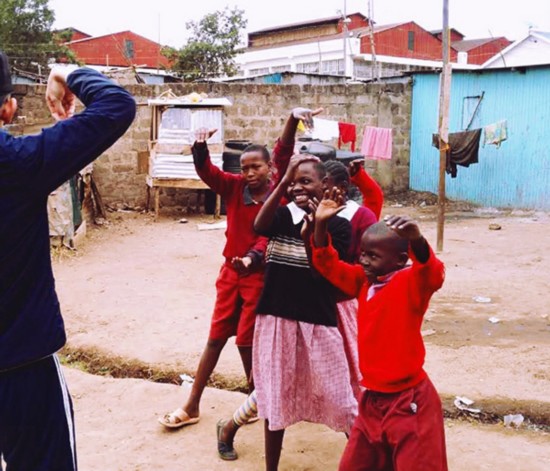 A volunteer plays with local children. [Photo provided to China Daily]
Local culture
Cultural exchange is the best benefit for international volunteers, but coping with cultural differences is no easy task. Chen Zhao, marketing director of Eniutrip, a Guangzhou-based travel agency, advises volunteers to do some research before landing in a destination. "If you don't know the local culture, especially the taboos, you are likely to face hostilities from the locals."
Stay safe
Register with security programs organized by reputable organizations. Good agencies offer safety instructions and insurance. Avoid serving in politically unstable countries. "There're abundant volunteer opportunities in countries like Iraq and Afghanistan, but those countries are dangerous places," says Zheng. "South Asian countries are good places to start."
It's necessary to stay alert wherever you go.