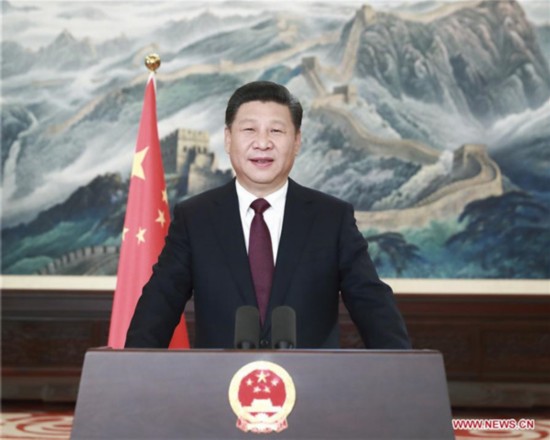 Chinese President Xi Jinping extends New Year greetings to all Chinese compatriots and people around the world in his New Year speech in Beijing, capital of China, Dec 31, 2016. President Xi said 2016 was an extraordinary year for China as it achieved progress in every aspect, and urged the international community to join hands to build a more peaceful and prosperous world.[Photo/Xinhua]
Netizens have responded enthusiastically to President Xi Jinping's New Year's address, equally impressed by the content and inspirational phrasing of the speech, during which he said that "only hard work will make dreams come true".
Extending his greetings to all Chinese compatriots and people around the world, Xi said on Saturday evening that hard work and joint efforts in 2017 will make China and the world better.
Xi, whose 2016 address inspired pop songs that incorporated catchphrases from his speech, called on Saturday for "rolling up our sleeves"-adding a sparkle to the picture of diligence and unity that proved popular among netizens.
The president also mentioned reform eight times, and his concern for impoverished people was applauded.
"No one should fall behind on the road to a well-off society," he said.
Noting progress in the fight against poverty, he compared the streamlining of services for registering residence, as well as for schooling and healthcare, to river management, saying that each service should have someone accountable.
Xi also said 2016 was an extraordinary year for China, since the country achieved progress in many aspects, and he urged the international community to work together to build a more peaceful and prosperous world.
The president's love of classics also showed up in his choice of literary allusions. "Old gives way to new, and nothing will stop in the course of time," a quote from philosopher Wang Fuzhi of the Ming Dynasty (1368-1644), was given fresh wording in Xi's speech.
The president said China has promoted economic growth, fully deepened reform, achieved breakthroughs in national defense and military reform, promoted the rule of law, advanced strict governance of the Communist Party of China, and resolutely cracked down on high-ranking and low-level corruption.
He also noted that the nation made great progress in the past year in its space program, and its athletes gained excellent achievements in the Olympic Games in Rio de Janeiro, Brazil. Additionally, reforms have facilitated urbanization, and the school conditions of children in poverty-stricken areas have improved.
At the G20 Hangzhou Summit, China contributed its wisdom and solutions to addressing global issues, Xi said. In addition, the Belt and Road Initiative is rapidly advancing and the Asian Infrastructure Investment Bank began operations in the past year.
"We adhere to peaceful development, and resolutely safeguard our territorial sovereignty and maritime rights and interests," the president said. "Chinese people will never allow anyone to get away with making a great fuss about it."
The president also paid tribute to victims of natural disasters and accidents in 2016, as well as to Chinese soldiers who sacrificed their lives on UN peacekeeping missions.
The Chinese people hope for a better life for people in other countries as well as for themselves, Xi said. He noted that people in some countries and regions are still plagued by war and poverty.