Many Beijing residents have taken trips out of the capital as the government released the first smog red alert this winter
More and more people are moving away from China's smoggy cities
Even as awareness of pollution increases among people, it will be a long and arduous battle against pollution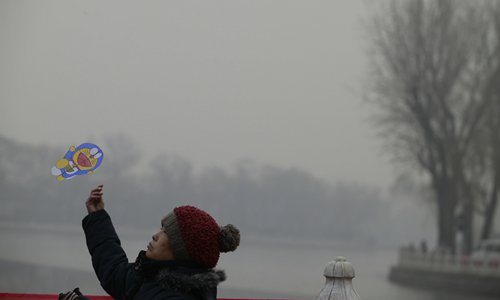 A resident tries to fly a kite in central Beijing on a smoggy day Tuesday. Photo: Li Hao/GT
It all began last Friday, in the afternoon. As many in Beijing walked the streets, they noticed a clear dividing line appearing on the horizon, one side was blue sky, the other a muddy gray, as if thousands of dusty foot soldiers were marching towards the city.
Gradually, the smog devoured every last inch of Beijing's blue sky like a monster. At 8 pm that night, the Beijing municipal government started its first red smog alert this year, the highest level of the three-tiered air pollution warning system.
The next morning, Jiang Aoshuang hit the road with her husband and 10-year-old son. They escaped the worst of the smog within three hours, arriving in Chongli, North China's Hebei Province, their traditional getaway spot. Chongli is one of only a small number of places in the province not seriously affected by the smog.
Only this time, she found the place was packed. Over the next few days, more and more people gushed in to seek cleaner air for a few days.
This phenomenon has become a norm for many Chinese nowadays. Whenever smog strikes, they escape to cleaner places, mostly in the south of the country, for a few days' vacation, and return when the smog has cleared. Facing such heavy air pollution but tied to jobs in the country's biggest cities, a temporary break seems like the only way to deal with the occasional "airpocalypse."
Escape is the answer
Jiang and her husband work flexible hours and the smog alert meant their son was out of school this week, so they packed the car and left, to return on Wednesday night, planning the trip around the smog's predicted schedule.
"In the past, whenever smog struck, we would go away to Chongli," she said. "It's geographically closer to Inner Mongolia and is protected by mountains, smog hardly ever reaches it."
When they drove through Hebei, she saw that most of the industrial province's cities had already fallen to the smog. The pollution was so thick that they felt nearly blind on the road.
Chongli has been a popular ski resort ever since China designated it as one of the sites of the 2022 Winter Olympics. But over the last few days, it has rapidly become a safe haven for people from neighboring regions trying to escape the smog.
"The parking lots were full. I saw people everywhere and had to wait in line for half an hour this morning before I could 'fight' for my breakfast," Jiang said. "It really felt like a refugee camp."
When the Global Times called the Shangri-La Hotel in Chongli to make a reservation, the receptionist replied there are just a few rooms left, all of them on the expensive side. "Rooms fill up quickly these days," she said. "It has not happened before, we have been almost fully booked for about a week now."
The same goes for many other hotels. An online search found most places are full, and prices have gone up by at least 50 percent for vacant rooms. Jiang said some even sought shelter in apartment buildings, local school dormitories and locals' homes.
Meanwhile, the smog charged on, enveloping more than 17 provinces by Tuesday. The air smelled like burning plastic. A weather map issued by official sources looked like multi-colored cancer cells were eating away most of China's central and northern regions.
Photos circulated on the Internet showing passengers getting off a train in Hebei Province and immediately walking into a landscape reminiscent of the classic horror video game Silent Hill, their luggage barely visible, their silhouettes half-hidden. "The smog is so thick that you could almost catch a handful and chew it," netizens joked.
By then, 24 cities had issued red alerts, and more than 50 had announced orange alerts. Beijing said measures would be taken to reduce pollution until the 21st, five days later, when cold air is supposed to arrive.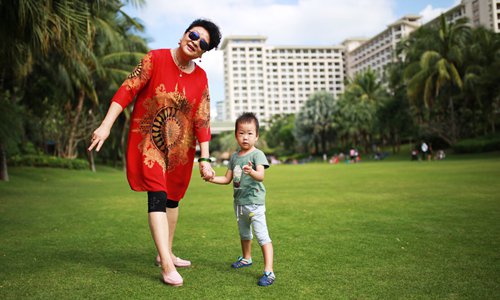 Beijing resident Guo Wei's son and mother-in-law enjoy the sunshine in Hainan Province. Photo: Courtesy of Guo Wei
New trend
According to a recent report by online travel agency Ctrip, it expects more than 150,000 tourists to book trips outside the country in order to avoid the recent smog, and more than one million tourists each year.
The top destinations are almost all those famous for their natural scenery, such as Yellowstone Park in the US, places in Norway where the northern lights are visible or the Japanese countryside. Some even spend more than 100,000 yuan to go to the South Pole. This year, Ctrip sold more than 100 trips to Antarctica. Of the domestic destinations, the southern provinces of Hainan and Fujian are the most popular. Tibet also made the top 10.
"Avoiding smog" and "lung cleansing" have become popular phrases on Ctrip's cellphone app, with more than 5,000 search results.
Not many are as extreme as Guo Wei, a full time housewife. She and her husband, 3-year-old son and in-laws went away to Sanya, South China's island Hainan Province last month and rented an apartment there.
During these weeks, the family forgot about the bad weather and lived like locals. They bought groceries, cooked, sometimes took walks in the park, sometimes strolled by the ocean. Guo's son had plenty of sunshine and good air.
"My mother-in-law stopped having breathing problems when she arrived in Sanya, my father-in-law's back stopped aching, it's been a pleasant month," she said.
Her WeChat account shows a total change from Beijing's scenery. She posted photos of the ocean glimmering under boundless sky, her son running under a line of palm trees, and her in-laws smelling blooming flowers by an apartment building, dressed in Hawaiian shirts.
There's been an influx of people from all over the country since last week, but mostly from the northern provinces, the annual winter migration exacerbated by the heavy pollution. Most came with elderly and children. The apartment Guo rented was 9,000 yuan last month, but it's now 13,000. She's seen grocery prices rise rapidly as well, from 10 yuan for a plate of fruit to 15 this week.
Last week, her mother-in-law joined a group following a real estate agent to see a few houses, and five were sold on the spot to people from other provinces to turn them into vacation homes.
The measures include alternating odd-even license plate restrictions on roads; suspension of construction work and classes at kindergartens and primary schools; as well as reducing factories' output.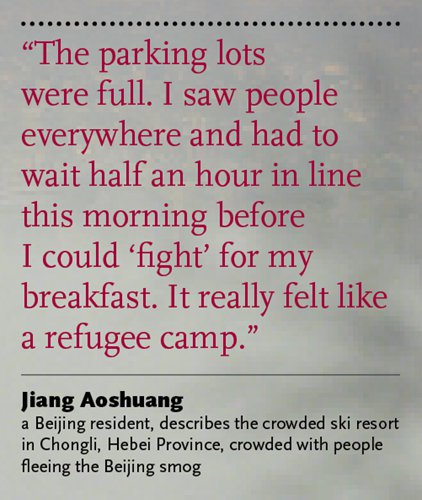 Waiting for wind
For those who can't pack up and leave with a few days notice, who are still the majority of the population, they stay in the city and do their best to protect themselves.
At 4:30 pm on Monday, New Century Kindergarten, a private kindergarten near the East Third Ring Road let the children out early. Parents hurried to meet them and took out child-sized masks.
Out of 380 children, more than 100 didn't come to school Monday, a security guard at the kindergarten said. A notice was posted outside the main gates, saying during red alert days, it's not compulsory for the children to come to school, but teachers will be there.
A mother said she knows about the situation, but she has no choice other than to send her child to school, since there's nobody at home to take care of her.
"It's better to leave her at school, they even have air purifiers here," she said as she placed a child-sized mask over her daughter's nose. She didn't know the dangers of smog until last year, when a friend of hers developed lung cancer. Since then, she started doing research and found a mask developed by a Tsinghua University lab that's designed especially for children.
With each smog strike, the public seems to become more well-versed with the science behind the pollution, as well as protection methods. That's a big improvement from a couple of years ago, when many denied the air pollution problem even existed.
In 2008, when some athletes arrived in Beijing wearing masks, the public was furious. Newspaper headlines declared they had hurt the feelings of the hospitable Chinese people and forced apologies out of them.
That kind of sentiment is clearly gone now. As a sharp contrast, a couple days ago, when the Beijing government described the smog as "a natural disaster" in a new policy draft, it led to wide discussion and anger; with many demanding the government admit it's not a natural disaster, but rather man-made pollution.
Grass-roots organizations have also started calling for citizens to participate, alongside government measures. Last year, during the first ever red alert, a few organizations wrote a joint letter asking the public to supervise heavily polluting factories and pressure local governments to publicize their pollution status and emission data.
But even as there are rays of hope, there's still a strong sense of helplessness in the air. In this week-long red alert, both people who escaped and who stayed to suffer are all hoping for the smog to go away naturally. A photo circulating in WeChat shows how many feel, simply saying these three words: waiting for wind.
Newspaper headline: Lung vacation