Further liberalization of trade consistent with international trends
China and Chile have pledged to deepen a decade-long free trade agreement (FTA) during President Xi Jinping's state visit to the South American country.
Experts said they believe the upgrade means greater trade liberalization, covering fields such as intellectual property rights, labor standards and projects brought by the "One Belt and One Road" initiative.
Chile is the last leg of Xi's trip to Latin America after visiting Ecuador and attending the 24th Asia-Pacific Economic Cooperation Economic Leaders' Meeting in Peru.
"I am sure that expanding the FTA is going to be one of the talking points with President Xi," Chilean President Michelle Bachelet was quoted by the Xinhua News Agency as saying on Monday.
It is now "time to modernize it [FTA] and adjust it to today's circumstances," said Bachelet, adding that the two countries are working together on the possibility of expanding it.
Since the 2008 financial crisis, the global community has been promoting regional economic integration, an agenda that requires higher standards for free trade, Sang Baichuan, director of the Institute of International Business at the University of International Business and Economics, told the Global Times.
In 2005, Chile became the first Latin American country to sign a free trade agreement with China. China is now Chile's biggest trade partner.
Against this backdrop, "China's FTA with Chile, with a low degree of trade liberalization and trade facilitation, seems not to be consistent with the global trend, especially compared to the new FTA standard," Sang said.
Sang said there are some tariff protection treaties, for example, for certain industries in the 2005 FTA with Chile, while the proposed Trans-Pacific Partnership (TPP) agreement dramatically reduces tariffs to as low as none.
Sang said that currently, areas such as intellectual property protection, labor standards, environment protection, the free flow of data, and free transfer of foreign exchange have become the priorities of free trade treaties between China and Chile. Therefore, it is likely that those sectors will be targeted for FTA upgrades.
Chile hopes that financial services, competition policy, government procurement and market access will be included in the new FTA, Chile's ambassador to China Jorge Heine said.
China has expressed its willingness to broaden the list of exportable services and assess the possibility of expanding e-commerce, which would increase trade diversity, Bachelet said.
"Besides, facilitating trade and investment in the upgraded FTA will also push forward the production capacity cooperation within the framework of the 'Belt and Road' initiative," Wu Baiyi, director of the Institute of Latin American Studies at the Chinese Academy of Social Sciences (CASS), told the Global Times.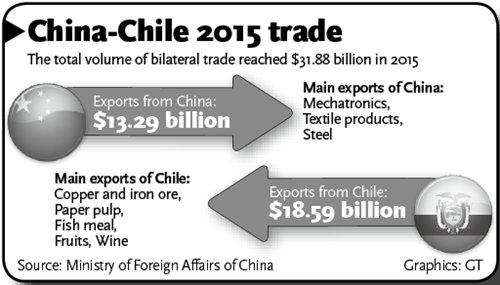 Model for cooperation
"Such higher levels of trade liberalization without jeopardizing the industries of a small economy will demonstrate China's willingness to share its development achievements with other economies and dismiss political concerns from other countries, such as members of the Association of Southeast Asian Nations (ASEAN)," Wang Peng, another research fellow at CASS, told the Global Times.
In 2014, ASEAN and China agreed to upgrade the ASEAN-China Free Trade Area to provide greater trade and investment liberalization between the two sides.
Echoing Wang, Wu said the FTA upgrade with Chile would also encourage other TPP signatories to participate in discussing the China-proposed Asia-Pacific Free Trade Area, following reports the US has all but abandoned the TPP.