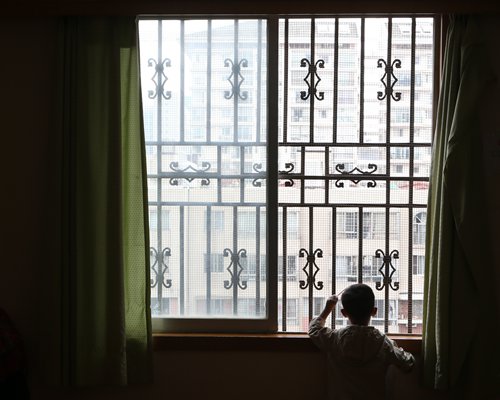 An autistic boy stands with his back to the camera at a recovery center for children diagnosed with autism in Kunming, capital of Southwest China's Yunnan Province in July. Photo: IC
A Chinese airline recently sparked controversy after it refused to let a 13-year-old autistic boy who they say "behaved abnormally" board his flight in an airport in Zhengzhou, capital of Central China's Henan Province.
The boy's father, surnamed Cui, came into a conflict with Yangtze River Airlines (YRA) check-in staff in Xinzheng International Airport on Tuesday when they refused to let him and his son board a flight to Zhuhai, South China's Guangdong Province, local newspaper the Dahe Daily reported Wednesday.
Cui claims that the airline was discriminated against his son.
"They refused to take us just because my son was speaking too loudly. But my son is not mentally ill and he was not offensive ," said Cui.
According to a statement released by YRA on its Sina Weibo account on Thursday, check-in staff asked Cui to postpone boarding and wait for his son to calm down after they saw him "behave abnormally" - walking around and loudly shouting.
But the boy did not stop his "abnormal" behavior, and his father could not provide documentary evidence of his diagnosis which YRA could have used to decide whether to let them board or not, according to the YRA statement. People who register as disabled in China are given a certificate by which they can prove their diagnosis, however it is not clear if Cui's son is registered as autistic.
"Given the situation and taking other passengers' safety into account, we refused to take the two passengers in accordance with the China Civil Aviation Rules on Domestic Carriage of Passengers and Baggage," read the statement.
These rules say that carriers can refuse to take patients with infectious or mental diseases, those in very poor health and people who might pose a threat to the safety of other passengers.
Mixed feelings
Many Weibo users expressed support for the airline company saying that even though the boy did not hurt others, his behavior may disturb other passengers or even cause panic.
However, Wang Jun, a Beijing-based lawyer who is also the mother of a four-year-old autistic boy, told the Global Times on Saturday that YRA cannot refuse to take autistic passengers just out of concerns their involuntary behavior might disturb others.
According to Wang, autism was classified as a mental disability by the China Disabled Person's Federation in 2006 and autistic people are entitled to an equal right to travel under the Measures for the Administration of Air Transport for the Disabled issued by the Civil Aviation Administration of China.
"The YRA was not only discriminating against autistic people but also violated related rules by refusing Cui and his son if the boy hadn't hurt anyone and would not have affected the safety of the flight," Wang said.
Cheng Shuoming, a staff member of Beijing Stars and Rain Education Institute for Autism, a non-governmental educational organization serving children with autism, told the Global Times on Friday that Cui should have informed YRA about his son's illness in advance and asked the company for help when the boy became agitated.
"Autistic children can get really agitated if things do not progress in accordance with a set plan, for example if a flight is delayed," said Cheng.
Cheng noted that "'abnormal behavior' like screaming is how autistic children express their feelings and ask for attention."
Scale unknown
The number of children diagnosed as autistic has increased by over 100 times in the past two decades in China and reached over 1.6 million in 2014, china.com reported.
Though many Chinese first heard the term autism in the 1988 Oscar-winning US film Rain Man starring Dustin Hoffman, who portrays the autistic savant Raymond Babbit who has amazing arithmetic abilities, experts noted that in real life, most autistic people are simply normal and in urgent need of our tolerance, understanding and help.
"Many people have confused autism with depression and other personality problems, thinking it can be cured by communicating more with others. But autism is a life-long condition and its cause still remains unknown," said Wang.
"As my son grows up, he will enter schools and face more difficulties. What I can do is teach him basic life skills, school regulations and pay more attention to his feelings in order to avoid him hurting himself or others," Wang said.
In addition, experts also pointed out that as people with mental diseases face challenges in finding a partner or accessing education, many parents choose not to register their autistic children as disabled with the local authorities.
"The result is, on one hand, the family cannot receive social security services and, on the other, the government cannot grasp the real situation of autistic people and provide appropriate services," Cheng said.