As the sex education offered in private schools for the children of migrant workers often fails to prepare them for adulthood, an NGO project designed to help these students has tried to provide them with comprehensive courses. But due to their limited resources, parental and official resistance and cultural conservatism, their scope is still limited.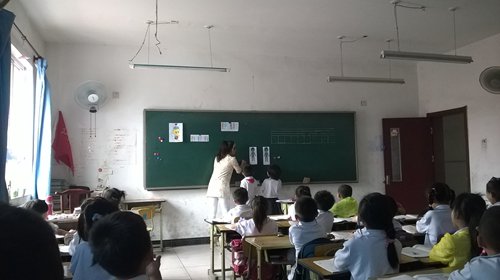 A school teacher teaches Grade 1 students about their sexual organs. Photo: Courtesy of Han Xuemei
China's remarkable economic growth over the last few decades would have been impossible without the hundreds of millions of rural laborers that packed up and headed to cities for work. While most of their children have remained back in their villages, usually being raised by their grandparents, many other have made the journey toward urban life with their parents.
But still, due to major cities' strict household registration rules, these children are marginalized in many ways, including being rejected by public schools and missing out on any kind of formal sex education. Just like their left-behind counterparts, many later suffer the effects of unsafe sex and harassment.
Some NGOs have started to intervene. In 2015, the New Citizen Program, a Beijing-based NGO dedicated to providing fair, quality and appropriate education for the children of migrant workers, launched the XX XY School project to provide sex education in Beijing.
"There is no denying that the scarcity of proper sex education in China's primary and middle schools, especially migrant schools, has become an important social issue and triggered many social problems. In this regard, we need to make enormous efforts to run sex-ed courses for adolescents, in an effort to help them form a systematic understanding of sex and enjoy a happy and comfortable life," said Han Xuemei, 38, who is in charge of the project.
The Beijing Statistical Yearbook estimates that there were 687,000 migrant children in the city under 14 years old by the end of 2015. Among these children, about two thirds are in education, including 80,000 studying in over 100 privately-owned "migrant schools."
"China's central government as well as local educational administrators stress the significance of sex education. But the reality is that most schools are struggling to run quality sex-ed courses for students. This is especially true in migrant schools where qualified teachers and teaching facilities are extremely rare," Han told the Global Times.
Because migrant workers often work long hours, they usually have little time to spend with their children, and because they often lack knowledge about sex themselves they find it hard to teach their kids about the topic, Han explained.
"Most migrant parents received little or no sex education when they were young. At that time, Chinese society considered the pursuit of sexual activities to be immoral. These parents feel confused and embarrassed about discussing sex," she noted.
A drawing by Grade 2 student Liu Jiarui shows how he was born. Photo: Courtesy of Han Xuemei
Efforts and progress
Han claims that most migrant schools offer no sex education to students. Even though a few school authorities hold some lectures related to sex, for example, lectures on adolescent health and protecting oneself from sexual harassment, students rarely if ever receive sex education in a comprehensive and systematic way.
But what makes the XX XY School project distinctive is that migrant schools which work with it will run dedicated sex-ed classes with specialized sex-ed textbooks and teaching staff.
"We have cooperated with some primary schools for migrant children in Beijing on sex-ed courses for them. The pupils take six sex-ed classes every semester from Grade 1 to 6. Our textbooks are designed on the basis of the International Technical Guidance on Sexuality Education proposed by UNESCO," Han said.
In 2015, the XX XY School project, in collaboration with SEXUALITY, a child sex education research group based at Beijing Normal University, provided 9,405 migrant children with 1,344 sex-education classes in 13 migrant schools. A total of 147 professional teachers and nine qualified voluntary teachers have been involved in this project, its official website revealed.
Zhang Xiaojie, an undergraduate at Beijing Foreign Studies University, served as a voluntary teacher in a migrant school earlier this year. She explained that the sex education the project provides does not exclusively deal with reproduction and adolescent health. It involves a variety of aspects.
"We strive to offer multiple sex-ed courses for students, not just focusing on sexual behavior and reproductive health like contraception, but infusing children with correct attitudes, concepts and values about sex, such as the difference between a friendship and a sexual relationship, sexual orientation, gender equality and the proper attitude toward marriage," Han said.
She added that sex-ed classes should avoid spoon-feeding students as it will bore them. She encourages teachers to adopt participatory teaching methods, such as organizing various activities around sex like discussions and drama performances and encouraging students to share their viewpoints on sexual issues and put what they have learnt into practice.
"When it comes to some topics like gender equality, we will hold discussions and students are given opportunities to express their ideas and opinions. We ask them questions like 'Do you agree with gender equality?' 'What do your parents and grandparents think of gender equality?' As for how to refuse sex, we will organize some drama performances for students to judge whether they have learned the correct ways in this regard," said Han.
Zhang, also a voluntary teacher with the XX XY School project, said she likes to arrange her teaching content by telling stories in a vivid way, and one of her friends from Tsinghua University sings a different song for students in every class, to stimulate student's minds, catch their attention and keep their focus on teachers.
According to Han, all their teachers - volunteers and professionals alike - have to take regular training to ensure they can provide high-quality education to students.
Apart from teaching, the XX XY School project runs a public WeChat account which publishes articles for migrant parents about how to educate their children, as a way to provide scientific information on sex and dispel their misconceptions.
Han noted most of the migrant children like the sex-ed classes. One student told her that he was quite interested in the sex-ed courses as what he learned was closely related to himself and helped him understand the physical and psychological changes he was experiencing.
But Zhang mentioned that students take a long time to internalize what they learn. She said that every semester students need to write some feedback on the classes. From this, she found some students absorbed little of what she taught in class. Even simple concepts like "wash your hands before a meal or after going to the restroom" took some Grade 1 students around three weeks to internalize.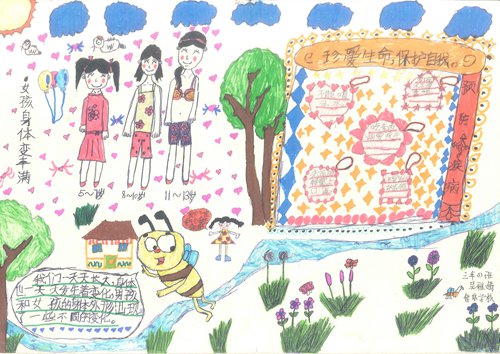 A drawing by Grade 3 student Wu Yajing shows her understanding of puberty. Photo: Courtesy of Han Xuemei
Challenges still exist
Despite the potential benefits that it can bring to migrant students, Han said the XX XY School project is still facing resistance from some parents and school authorities.
"Some parents doubt the necessity of sex education because they argue they have succeeded in tackling any problems related to sex on their own and leading a good life. Therefore, they reckon sex education for their children is a waste of time," Han told the Global Times.
She added that a few parents are against sex education because they just catch a glimpse of teaching materials, like diagrams of male or female genitals and jump to the conclusion that what the teacher taught is somehow inappropriate.
Shen, headmaster of Xingzhi Primary School, a private school for the children of migrant workers in the capital's Daxing district, said the school's resources for its basic curriculum are lacking, let alone material for sex education.
She said that her attempts to teach students about sex received protest at the beginning.
"A parent asked me face-to-face why I allowed the curriculum, as they believed it was bad and would teach their children to have sex at an early age," Shen told the Global Times, adding that she was eventually able to persuade parents that the course would help, rather than harm, their children.
Teachers and school administrators also have mixed feelings toward sex and find it hard to carry out sex education themselves. Zhang noted despite the fact that some migrant schools have already started holding sex-ed lectures for adolescents, they only give a brief introduction to the ideas of health or resisting sexual harassment. But what they teach is just the tip of the iceberg.
"Some school heads embrace our cooperation with them in running sex-ed classes, but reaching a consensus on teaching methods and course content is a tough task," Han said. "School authorities have to take advice from parents and teachers into consideration, to avoid a flood of opposition from parents and the general public if they talk about sex too much."
As for the further development of sex education in China's migrant schools, Han hopes the XX XY School project will gradually cover more schools inside and outside Beijing, and join hands with local educational authorities in other provinces.
"We want our project to be recognized by more people, so we can raise more funds to continue this project. In addition, as sex education remains sensitive in some migrant schools outside Beijing, we need more cooperative partners, especially local administrators. So we can gain trust from school heads and promote this project without much resistance." Han told the Global Times.
Zhang said besides efforts made by NGOs, migrant schools should try their best to train qualified teachers to provide sex education. The government officials need to provide financial support, she added.
Only if families, schools and governments work together can all of China's adolescents receive adequate sex education, she noted.