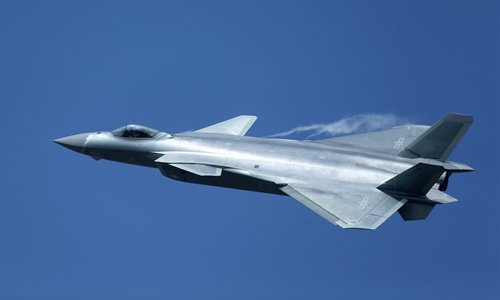 The J-20, China's new-generation stealth fighter, makes its debut with a flyby exhibition on the opening day of the China International Aviation and Aerospace Exhibition 2016, in Zhuhai, South China's Guangdong Province on Tuesday. Photo: Cui Meng/GT
China's biggest air show kicked off Tuesday with a brief but spectacular display of its latest aviation technology, with the debut of its latest stealth fighter jet thrilling spectators.
The display is a symbol of the progress China has made in military technology, observers at the show said, while cautioning that there is still a gap between Chinese and US air force hardware.
Two J-20 stealth fighter jets flew over thousands of spectators in formation during the opening ceremony of the China International Aviation and Aerospace Exhibition 2016, or Airshow China in Zhuhai, South China's Guangdong Province.
A member of the Pakistani Air Force delegation, who did not give his name, told the Global Times that "it [J-20 flight] was very impressive," except it was too short.
Although its appearance was less than one minute, those watching with knowledge of military matters could sense the advantage of this China-made fifth-generation fighter jet.
"The angle of the climb that the J-20 achieved during its exhibition flight was about 90 degrees. That proves the quality of the engine is very high, and this will give us advantages in actual combat," a Chinese air force officer surnamed Wang told the Global Times on Tuesday.
Currently, only the US (F-22 and F-35), China (J-20 and J-31) and Russia (T-50) have their own domestically built fifth-generation fighter jets, so the comparison between these countries' most advanced fighter jets is unavoidable.
However, Chen Hu, chief editor of Chinese military magazine World Military Affairs, told the Global Times that comparisons are not necessarily useful, as there are many differences.
"The F-22 was built to destroy enemy anti-aircraft systems and airborne fighter jets to gain air domination, not to attack large surface ships like aircraft carriers, because the US' potential rivals don't have many carriers," he said.
"But in this area, China's defensive needs are totally different from the US'," so the F-22's capability has no comparison with the J-20 on attacking large surface ships, Chen said.
"The J-20 is not for sale so far because it is the most advanced fighter jet that China has, that's why the debut was very short," Chen said Tuesday, adding that China only wants to send a signal to the world that it formally has the fifth generation stealth fighter jet but that further details will remain secret.
Chen stressed that the F-22 is fully operationally tested, but the J-20 is yet to see any combat, "which means the gap in military technology between the US and China still exists."
China Aerospace Science and Technology Corporation (CASC) also demonstrated its new products at the air show on Tuesday, including the CH-5 unmanned aerial vehicles (UAV), and a solar energy drone.
The "CH series" is the UAV with most combat experience in the world, said Shi Wen, chief engineer of CH series.
"The CH-3 and CH-4 are very popular in South Asia, Southeast Asia, the Middle East, and Africa. These drones have destroyed more than 300 targets in combat in these regions, and the strike rate is 99 percent, which is remarkable," Shi told the Global Times.
A few years ago, The CH-3 and CH-4 drones could already launch strikes from an altitude of 5,000 meters, which US-made drones could not do. The CH-5 is even more advanced, and can stay aloft in a battle zone for more than 60 hours, Shi said.
"The CH series' control system is very smart, just like playing a video game, so it's very easy for clients to learn and train their own pilots, and this is also an important advantage in the military UAV market," Chen said.
Zhou Naien, associate director of CASC's design department at its research institute, said that at first, the core competitiveness was "surveillance plus strike," but that other areas would be explored.
"The CH-5 can be used for forest protection, exploration of underground resources, and ocean environment monitoring," Zhou said.
China is a newcomer to the world's arms market, which was previously dominated by the US and Russia.
"China is quickly expanding its share of the global arms trade, however, it still lags behind the US. Take drones, the US is far ahead, and China is on the same level as Israel, Europe and Russia," Chen said.
Arms exports are not only decided by the quality of the product, but also heavily affected by diplomatic relations, he noted.