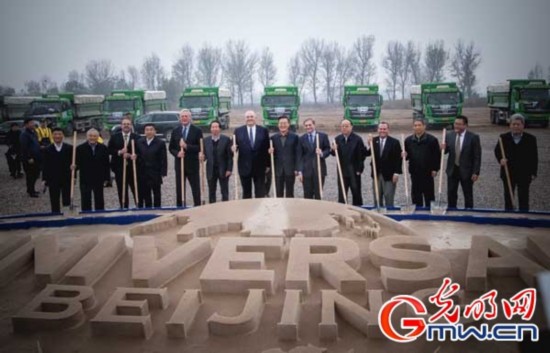 The project of Universal Beijing Theme Park and Resort joint venture is initiated on November 5, 2015 in Beijing. [Photo: GMW.cn]
The Universal Beijing Theme Park and Resort project is one step further to completion. The theme park will be distinctively Chinese styled and on Friday, an earth-filling initiation ceremony celebrated the milestone, reported Beijing Youth Daily. The whole project of phase one will be completed in the spring of 2020.
Located near the Beijing-Harbin expressway, the theme park will cover 4sqkm and will include Chinese designed and styled garden landscapes of Chinese literary works, such as the Eight Immortals Crossing the Sea and Butterfly Lovers.
The park will include two holiday hotels, river belt and seven themed locations: Hollywood Boulevard, Transformers, Kong Fu Panda, Waterworld, Harry Potter, Minions and Jurassic Park.
Visitors no matter in Beijing or from other provinces will be much easier to access to the park. The entrance of the park will be at Beijing's subway line 7 and the Batong Line and also two overpasses will be built to connect the Beijing-Harbin expressway and the east sixth ring road. The parking lot will hold 10,000 cars, 300 taxis, 180 tour buses and 50 buses.
A ceremony marking the agreement of the joint venture was signed in New York on September 13, 2015 and the project initiated on November 5, 2015 in Beijing.