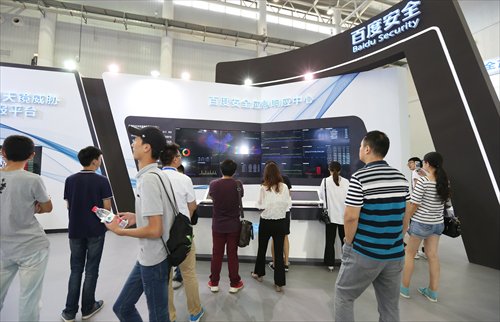 Visitors watch a screen which shows Baidu is monitoring the Internet safety of enterprises and conducting regular defense processes at the cyber security exhibition on Tuesday. Photo: Cao Siqi/GT
As China is stepping up its efforts to safeguard cyber security, fight cybercrime and build up the country as an "Internet power," leading Chinese cyber security enterprises have revealed various new "weapons" during this year's China Cybersecurity Week held in Wuhan, Central China's Hubei Province on Monday.
These new weapons, which are being touted as being able to prevent telecom fraud, personal information leaks and also combat cybercrime, have successfully helped public security departments crack down on telecom fraud gangs and protect people from being scammed out of cash.
Safer electronic payment
At the exhibition, the Global Times saw Ant Financial Services Group, Alibaba's financial services unit, demonstrate its new service: face scanner payment. Users can log into Alipay and pay a bill by showing their faces to the camera.
An employee from the company's cyber security department said that this technology uses the latest bioscience technology which can accurately identify human faces, even the blood vessels on the surface of their eyes.
Compared to a digital password, this technology is hard to be cracked, which can make electronic payment safer, an Ant employee said.
China Unionpay also showed off its new service "cloud flash pay," which offers users a digital "boarding card" on their cellphones that records their bank card numbers, ID numbers and the products they want to buy, which will apparently prevent criminals from stealing users' information.
In the digital age, personal information leaks are something we should all be concerned about, said experts.
In April, the personal information of more than 200,000 children in Jinan, Shandong Province, including their names, age, address and parents' telephone numbers were leaked, sparking public outrage.
A white paper published by Internet giant Baidu Inc. showed that over 540 million pieces of users' personal information have been leaked in the first half of 2016 while cyber attackers have stolen users' private information 630 million times, among which 410 million thefts were conducted through mobile phones.
The leak of personal information has also led to a booming Internet black industry.
The white paper showed that about 560,000 people have engaged in the industry in the first half year, which generated more than 148.2 billion yuan ($22 billion) of profits.
Trace base-station
Telecom fraud is no doubt one of the biggest parts of the underground industry. Recently, a professor at Beijing's Tsinghua University created a stir online after he was scammed out of 17.6 million yuan by a group of swindlers who posed as officials from judicial departments.
Many Internet companies have developed new systems which can trace the scammers' locations, helping public security department better locate and crack down on these criminals.
According to a survey conducted by Baidu, fraudster "base-stations" sent over 2.3 billion messages in the first half of 2016, an increase of 95 percent compared to the last half of 2015.
A survey from Qihu 360 also found that among the 3.4 billion calls that its automatic mobile phone guard blocked in August, 445 million were fraudulent calls. Of these fraudulent calls, 43.2 percent were financial scams, while swindlers in 25.2 percent of cases were found to falsely assume the identities of police officers, judges, prosecutors or the relatives of their targets.
Qilin, the system developed by Tencent company, is believed to monitor some moving scammer base-stations pretending to be banks and telecom service providers with an accuracy rate surpassing 99 percent.
A cyber security expert from the company told the Global Times that the system is the only one that cooperates with the Ministry of Public Security and has been applied in Beijing, Shanghai and Shenzhen, helping them bust a total of 375 suspects from March to August.
Baidu is also helping police crack down on the Internet black industry. A cyber security expert told the Global Times that the systems developed by the company can not only trace the location of base-stations, but also can trace the base-stations' IP addresses, port numbers and trade records.
A Baidu public relations employee told the Global Times that they have helped police crack 500 cases and bust 800 suspects, involving more than 100 million yuan. Moreover, these cyber security companies have launched services that help mobile phone users filter out spam or fraudulent phone calls.
Apart from telecom fraud, Baidu's white paper also revealed that in the first half year, hackers attacked 61 percent of the more than 400,000 companies' websites surveyed, leading to denials of service which temporarily makes the websites unavailable.
However, along with the emergence of new technologies, many cyber security experts called for the Internet users to participate in the war against cybercrime and actively tag phone numbers used by pranksters or frauds.