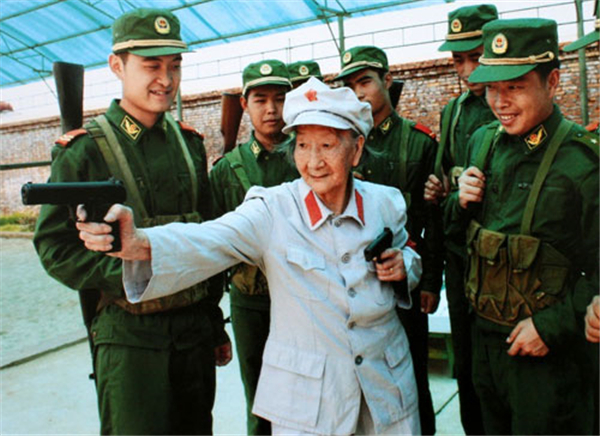 Wang Quanyuan demonstrates pistol use to young soldiers. She participated in the Red Army's Long March in October 1934 and was named the commander of a female regiment. [File photo from cpcnews.cn]
Despite all the sufferings, the female soldiers also experienced romance during the Long March.
Wang Quanyuan, a female solider in the convalescent troop, and Wang Shoudao, who worked in the security office, fell in love when they worked together in Zunyi, Guizhou province, in 1935.
On her wedding night, Wang received special gifts from her husband – a pistol and eight bullets. "According to the custom of my hometown, I should have made him a pair of cloth shoes, which means he could come back to me no matter where he goes. But I did not have the time and materials."
The second day after the 22-year-old bride and her husband married, their troops left Zunyi in a strategic shift.
The Red Army marched and battled through the blockade of Kuomintang troops along its way. They saw each other again almost half a year later.
But soon, the troops set out on different directions, and little did they know, they would not reunite for another half a century.
In August 1936, Wang Quanyuan was appointed as the head of a women's regiment with more than 1,300 soldiers, the first female forces in the history of the Communist Party of China.
When the troops marched in northwestern Gansu province to open up a new lifeline in the west, they were attacked by the Kuomintang forces who were supposed to be their allies in the fight against the Japanese.
The battle saw the death of more than 1,000 female soldiers, and many were taken prisoner, including Wang herself.
At the coercion of the commander of the Kuomintang force to marry him, Wang pretended to agree. That night she fled. Dressed up as a man, she made her way to the office of the Eighth Route Army in Lanzhou, the provincial capital of Gansu province.
The Red Army was then integrated into the Kuomintang forces and named Eighth Route Army when the Communist Party of China allied with the Kuomintang regime in the war against Japanese aggression (1937-1945).
When Wang finally arrived in Lanzhou after many hardships, however, she was told she could not rejoin the troop because they could not verify her identity.
In desperation, she begged her way home back to Jiangxi province.
It was not until 1995 that Wang reunited with her husband Wang Shoudao when she went to Beijing to attend a meeting of the National Women's Federation. The day she met her husband again, she bought a pair of cloth shoes for him, and they took the first and last photo together of their lives.
【1】
【2】
【3】
【4】
【5】
【6】
【7】
【8】
【9】
【10】
【11】
【12】
【13】
【14】
【15】
【16】
【17】
【18】
【19】
【20】
【21】
【22】
【23】
【24】
【25】
【26】
【27】
【28】
【29】
【30】
【31】
【32】