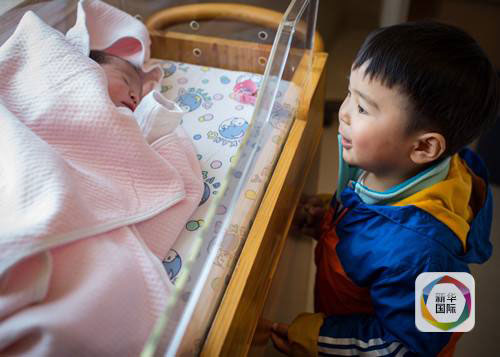 A file photo of a child and a baby. [Photo: Xinhua]
It's being said that a small baby boom may be just around the corner in China, following the overhaul of the country's long-standing One Child Policy.
Chinese lawmakers announced plans to eliminate the One Child Policy last year, replacing it with new regulations, which allow all couples in China to have two children.
Now the impact of the new policy, which took effect this year, is already visible.
Yang Xin is expecting her second child in the southern city of Shenzhen. She says the number of expectant mothers has increased sharply from a year ago, and she has to make appointments for medical checks three to four months in advance.
"The hospital has been crowded with expectant mothers every day since February. People began to queue up in early morning and I have to wait at least 30 minutes for each check. Thus I have to bring two family members along to wait in line for me, otherwise I won't finish all the necessary checks in a day."
Yang's case is rather common across China, as many hospitals are reporting a lack of beds in obstetrics while doctors have been overwhelmed by the number of patients.
Liu Lihua is the deputy head of obstetrics at the Shenzhen Maternity and Child Healthcare Hospital.
"We have 45 beds in the fifth section of obstetrics and we added 30 extra beds today. Such situation started in April, while the peak season usually came in August or September in the past."
2016 is also the Year of the Monkey, which is among the 12 Zodiac animals of China. Liu Lihua says a traditional belief that babies born in the Year of the Monkey are opt to be smart and confident has pushed up the number of newborns.
Chinese family planning authorities estimate the two-child policy will add an estimated 3 million babies annually in the next five years, pushing the total figure each year to up to 21 million.
Those figures will have a significant on China's economy.
Calculated on a basis of an annual spending of 16,000 yuan for each newborn, a yearly increase of up to 50 billion yuan, or more than 7 billion US dollars, is expected in consumption for infants in China.
The business concerning medical care and mother and baby products will directly benefit.
Among the 28 companies listed in China which focus on baby-related business, 21 have already released their semi-annual reports for the first half of this year.
Seven of them reported an over 100 percent increase in net profit, and three companies saw a 300 percent growth in revenues.
Huang Jun is an analyst at China Merchants Securities.
"Some reports covering the first half of the year have presented better-than-expected performance thanks to the second-child policy. The year of 2016 will see an explosive growth in newborns. "
The One Child Policy was eliminated mainly to create a demographic balance giving a rapidly aging Chinese society.
Chinese researchers project more than a quarter of the Chinese population will be over the age of 65 by 2050.