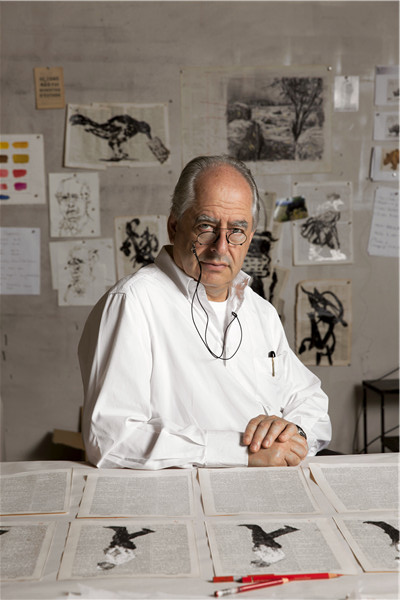 William Kentridge in his Houghton studio, Johannesburg. [Photo provided to China Daily]
Kentridge's works address sentiments before and after apartheid. His parents were lawyers reputed for defending apartheid victims.
On the other hand, Kentridge believes that while his parents' professions relied on logic, his requires untethering from rationality.
"Being in a studio is a way of not being logical and of resisting the demand for logic," he says.
Kentridge shared this methodology with Colombian architect-turned-artist Mateo Lopez, when they worked together as mentor and protege in Kentridge's studio. It was a yearlong program funded by the Rolex Arts Initiative.
They reflected upon the experience in a dialogue along with the Beijing exhibition.
Kentridge guided Lopez to walk out of his comfort zone of drawing with precision, and to be messy and to work with his hands, not his head.
"What I understand from our conversations is that I should try not to control things too much, try to create something from chaos," Lopez was quoted as saying.
"That is interesting."
If you go
10 am-7 pm, Tuesday to Sunday, through Aug 30. UCCA, 4 Jiuxianqiao Road, Chaoyang district, Beijing. 010-5780-0200.
【1】
【2】
【3】
【4】