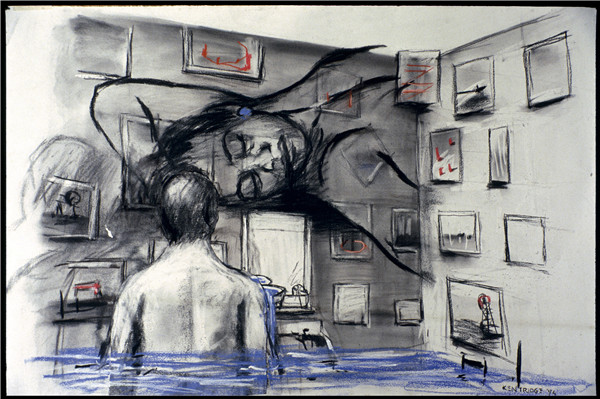 Highlights include Drawing for Felix in Exile. [Photo provided to China Daily]
The show startswith Kentridge's charcoal and pastel drawings from the late 1980s, when he invested more energy in pure art. He had previously been active in theatrical art and television production.
The show reflects upon Kentridge's ponderings of modernization, colonialism and the passage of time. Twenty-two projectors screen the hand-drawn animated films he became internationally acclaimed for, including the Soho Eckstein series, Shadow Procession and I Am Not Me, the Horse Is Not Mine.
Kentridge also shows his video, Notes Towards a Model Opera, which he specially produced for the Beijing exhibition. He rearranges the visual elements of Chinese maps, revolutionary slogans and the "Red classic" ballet The Red Detachment of Women, in which he presents a third-party observation of modern Chinese history.
Kentridge visited Chinese cities last year to work.
"I have three different senses of China to put together," he says.
"One is of the 'cultural revolution' (1966-76), that the Party was very present in everyday life. The second is the older, rural China that had been there for centuries. The third is the contemporary China, with Beijing and Shanghai much like European cities but also unlike them in some other ways."
【1】
【2】
【3】
【4】