After travelling 4,000 km in six months, Ding Yizhou holding a bunch of Gesang flowers proposed to Lai Min in Lhasa. The couple made commitments to each other in front of the Potala Palace as they wished.
Nearly 300 visitors at the scene spontaneously surrounded them in a semicircle, waved the cell phone flashlights, shouting "Marry him! Marry him" At the moment, Lai Min burst into tears. "I do ..." said she, taking the flowers from Ding Yizhou. Ding kissed Lai Min and they embraced in the long lasting warm applause.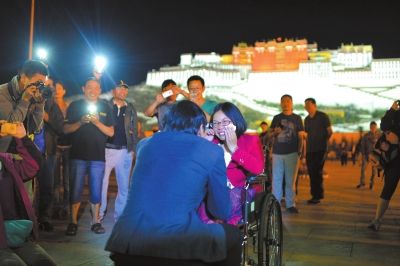 Ding Yizhou proposes to Lai Min in the square of Potala Palace on July 5, 2015. Lai Min burst into tears and was moved by Ding's commitment.(Beijing Times/Wang Yixuan)
On January 1 this year, Ding Yizhou and his girlfriend Lai Min, who was diagnosed with hereditary ataxia, set off in Liuzhou, southwest China's Guangxi. The pair of lovebirds hoped their traveling route would draw a heart shape on the map of China.
Ding rode an electric bike, pulling Lai Min's wheelchair with two ropes. In the six months, the couple had encountered both blessings and challenges. They overcame various difficulties such as severe altitude sickness to reach Lhasa on July 1. En route, many warm hearted people offered help to them.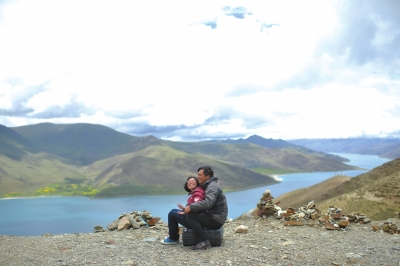 Lai Min and Ding Yizhou cuddle up together to enjoy the scenery at a lake in Tibet on July 9.(Beijing Times/Wang Yixuan)
To cover the travel expenses, they made some money working as hairdressers on the way. In addition, they sold lipsticks through Wechat online shop. They also upload videos of their journey on a website to get some financial supports.
On the way, dangers were beyond expectation. After they entered Tibet, Ding Yizhou and Lai Min were once attacked by a group of yaks. Their pet dogs barked furiously toward the yaks and bit one yak on the neck, which eventually frightened them off.
According to Ding, Lhasa is not the final stop of their trip. The two would later continue their way along the Qinghai-Tibet highway and cross the no-man's zone.
To fulfill their dream of drawing a heart shape on the map of China, Ding is now looking for a temporary job in Lhasa to make some money to upgrade their vehicles. Talking about future plans, Ding Yizhou and Lai Min smiled and said that they enjoyed the feeling of freedom and being close to nature. At the end of the trip, they will register for marriage and settle down in Liuzhou and live a simple but stable life.
【1】
【2】
【3】