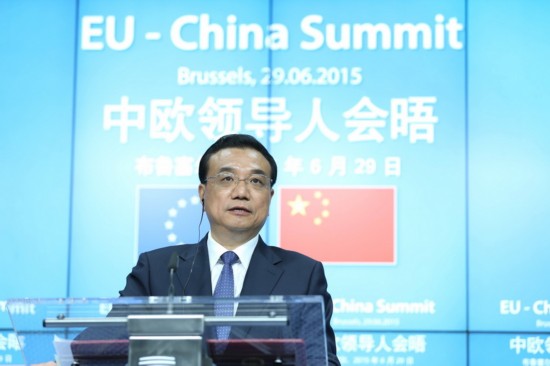 China promised the European Union on Monday it would hold on to its euro zone debt, saying the Greek debt crisis was Beijing's headache too.
Chinese Premier Li Keqiang made his remarks following a stressful weekend for Greece and the eurozone, in which Greece broke off talks with its creditors, announced a referendum, and introduced capital controls.
Euro, the European Union and the whole Europe are at a "crossroads" as western media put it. The shadow of intensified Greece debt crisis shrouded throughout Europe. Therefore, these comments made by China's Premier Li Keqiang have drawn extensive attentions from countries all over the world.
Greece debt crisis not only concerns China-EU relations but also the global financial stability and world economic recovery
While attending the opening ceremony of China-EU Business Summit, Li delivered a keynote speech. He said that China "would like to see Greece stay in the eurozone". Although Greece debt crisis is an internal affair of the EU, the issue whether Greece stays within the eurozone not only concerns the stability of the euro, but also the stability and economic recovery of the whole world".
Li said that relations between China and Greece are closely linked to China-EU relations, which means Sino-Greek relation is part of China-EU relations. In order to help Greece overcome the debt crisis, China has made great efforts and taken specific actions to respond to requests made by Greece, together with practical actions in response to a number of concerns and requests Greece.
"Our general position is willing to see Greece stay in the euro," Li said, "We appeal both the creditors and Greece to reach a consensual agreement and to make positive progress so that Greece , the European Union can overcome the crisis as soon as possible."
China helps the EU and, indeed, is helping ourselves
The Chinese premier spoke in direct terms about the debt crisis in a speech at an EU-China business summit in Brussels, noting that the European Union "is in a crucial stage". And China will continue to make long-term debt and responsible owners.
"By 2014, China-EU trade volume per day exceeded 1.7 billion US dollars. And the annual trade volume was more than 600 billion US dollars. China and the EU are partners, as well as a community of common destiny," he said, "We do so not only help European Union and, indeed, help ourselves."
China hopes to see a prosperous Europe, a united European Union and a strong euro
"Let me reiterate that China always supports European integration and that China hopes to see a prosperous Europe, a united European Union and a strong euro", Li said when answering a question raised by a Reuters reporter.
"China is a true friend of Greece and of the EU", Li noted. China needs Europe and Europe also needs China. China is willing to play a constructive role and to see an early recovery of the EU.
The article is edited and translated by Gao Yinan from Chinese version of 《欧洲处在"十字路口",中国总理如何表态?》, author: Chu Sicong, source: bjnews.com