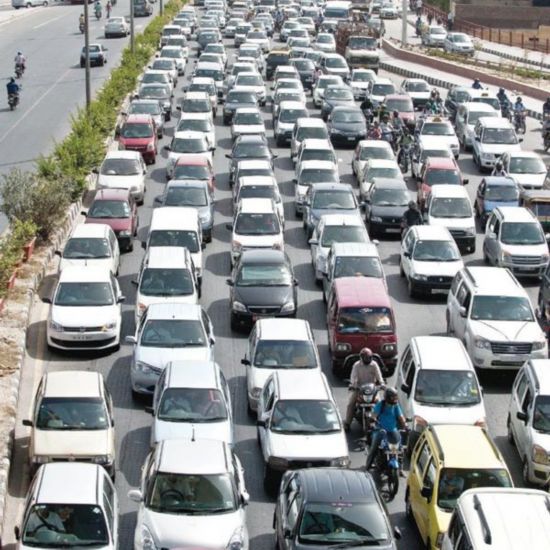 Gridlocked traffic in New Delhi. India's Prime Minister Narendra Modi has plans for a massive infrastructureoverhaul in the country, with China expected to emerge as a major partner in the developing and upgrading of expressways and railways. [Photo/China Daily]
"When China and India meet, the whole world watches."
President Xi Jinping made this statement after meeting with Prime Minister Narendra Modi on the sidelines of the BRICS (Brazil, Russia, India, China, South Africa) summit in Brazil in July this year.
"President Xi Jinping as a paramount leader of China fully understandsthe importance of India as a neighbor, trade partner and a possible competitor," Rajagopal Dhar Chakraborti, department head of South and Southeast Asian Studies at the University of Calcutta, says.
China and India have made a particular effort to reach out to each other since Modi came to power in May.
As Xi's special envoy, Foreign Minister Wang Yi proclaimed that "China and India are natural partners and the two countries had far more in common than differences", during his visit to India in June.
Wang maintained that China wanted to upgrade railways in India as well as build expressways. "We are competitive and cost-effective," he said, making a persuasive pitch for India to create "more open environment and preferential policies".
However, Chakraborti points out that China would be more interested in gaining confidence and establishing itself as a friend.
"As Prime Minister Modi has announced a road map for massive infrastructure and skill-building exercises for the country, China would like to emerge as a major partner on India's new road to development and in infrastructure expansion," Chakraborti says.
Beijinghas already invited India to participate in the Asian Infrastructure Investment Bank, an initiative to steer development along the ancient Silk Road.
Moreover, China has already made a concerted effort to push investment in India.
During Indian Vice-President Mohammad Hamid Ansari's visit to Beijing in June, to take part in the 60th anniversary of the Five Principles of Peaceful Coexistence, India and China struck a deal on establishing industrial parks in India.
【1】
【2】