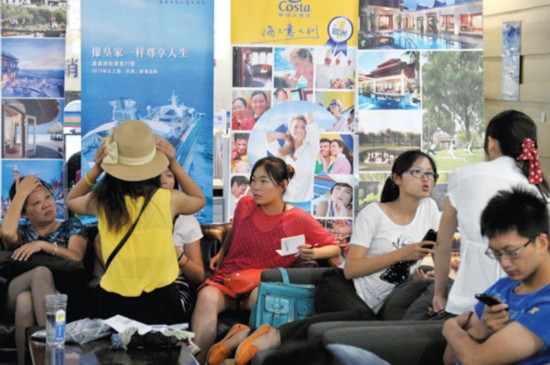 A travel agency in Nanjing, Jiangsu province. In 2013, 98.19 million Chinese tourists traveled abroad, an 18 percent increase from the previous year. Photo Provided to China Daily
Chinese tourists spent $128.7 billion overseas in 2013, up 26.8 percent on the year before
More than half of China's outbound tourists are from the post-80s generation, and traveling the world as a family has become more popular in recent years, according to a market research report on tourism.
The World Tourism Cities Federation, or WTCF, released the report to give its member cities and organizations a better understanding of China's outbound tourism market. The survey was designed and carried out by Ipsos, a France-based market research company, in July.
In 2013, 98.19 million Chinese tourists traveled abroad, an 18 percent increase year-on-year. Outbound tourists spent a total of $128.7 billion last year, an increase of 26.8 percent from 2012.
In terms of destinations, the four most popular were cities in South Korea and Japan, involving Seoul, Busan, Sapporo and Kwangju. They are all WTCF's member cities.
Among the outbound tourists, 56.21 percent were born after the 1980s and 59.25 percent of them were married with young children.
According to the survey, the incomes of China's outbound tourists were relatively high, with an average of 11,512 yuan ($1,872), almost three times the average income of people in major cities in the country.
The one-child policy and being brought up in a nuclear family mean the post-80s generation tends to focus more on children.
Traveling abroad with children to enrich their life experience is a new characteristic of China's outbound tourism. The report said that WTCF's member cities could create family tour routes and family-related products to cater to this growing segment.
As the family demographic has accounted for a major partof Chinese outbound tourism, travel services tended to be more digitalized and travel patterns were more diversified, according to the report.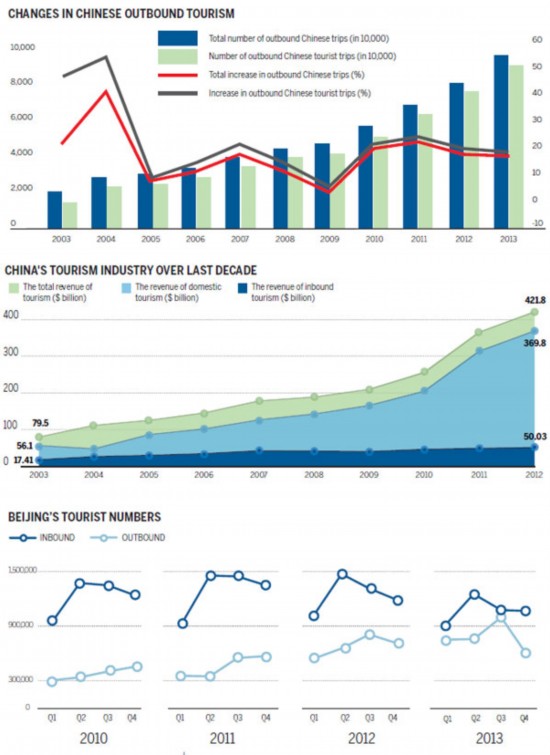 Online booking and other online services have become a mainstream trend among Chinese tourists. In 2013, revenue generated by online tourism services reached 2,850 billion yuan, which accounted for 7.7 percent of the total.
Self-guided tours are increasingly popular among Chinese outbound tourists. Some travelers said they preferred trips that helped them learn more about new places.
Some tourism cities and organizations have come up with special travel routes appealing to tourists with different needs. The report showed that 67.98 percent of tourists thought tours based on local culture were most appealing.
Shopping tours and routes that featured hit films or TV shows were also rated as popular for visitors to Japan and South Korea. In the United States and European countries, tourists said they preferred routes that educated them about local culture and immigration, according to the report.
To get more information on destinations, 79.31 percent of tourists wanted official Chinese websites for cities or regions. A total of 53.66 percent of travelers said official Chinese Microblog and WeChat accounts would also be useful.
According to the survey, transportation was the biggest concern for tourists, followed by accommodation, dining, sightseeing, shopping and entertainment.
Regarding specific problems during trips, language was the largest, followed by financial security and cultural differences.
The report also offered suggestions based on the survey results to member cities and organizations to better their services. These include providing more accurate Chinese signs and guide explanations at tourist spots and offering more Chinese services at hotels.
Easier visa approval, streamlining and speeding up procedures will enable more Chinese outbound tourism, said the report. Chinese hope that European countries and the US to set a lower bar for their visa applications and Japan and South Korea will provide visa-free trips, visa on arrival or visa-free transit.
The report also suggested that member cities and organizations should host and attend more promotion events in China, as well as launch specific campaigns catering to Chinese tourists.
Moreover, pleasant experiences of Chinese tourists in overseas trips will result in higher revisits and positive word of mouth, the report found.
【1】
【2】