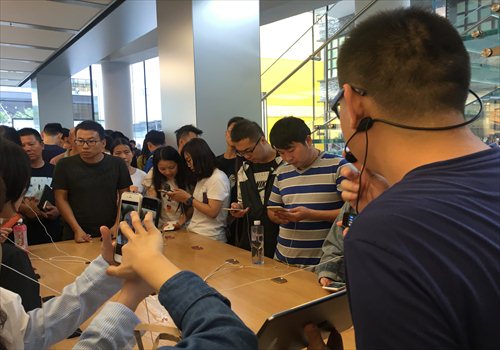 An Apple store employee in Sanlitun shopping area surrounded by customers who are interested in new features of iPhone 7products, in Beijing on Sunday. Photo: Chen Qingqing/GT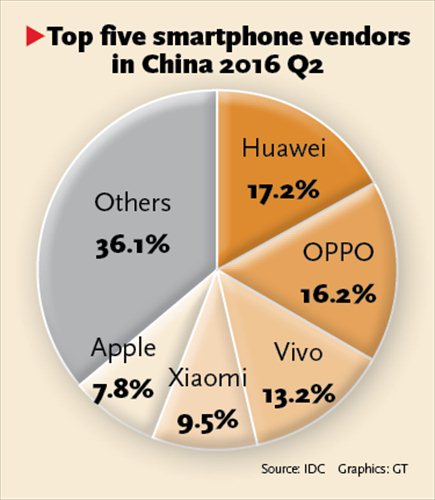 Graphics: GT
Two days after the launch of new iPhone products in Beijing, fans lined up outside of an Apple store in the city's downtown area, but iPhone scalpers said that those customers are less enthusiastic about the gadgets compared with previous years.
Customers had to make an online reservation before lining up outside the Apple store in Beijing's Sanlitun shopping area to purchase iPhone 7 smartphones, which debuted on Friday. A dozen iPhone scalpers waiting on the other side of the building asked those who had just picked up their preordered iPhone 7 gadgets to resell them, earning about 1,000 yuan ($150) each.
"Due to the lack of inventory in the store, some people may want to pay more for these new products, as it will take a long time for them to wait for the arrival of preordered ones," a iPhone scalper, who only gave his surname as Wang, told the Global Times outside the store on Sunday.
The company's press representatives in China did not respond to a request by the Global Times concerning the store's inventory of iPhone 7s in Beijing as of press time on Sunday.
As the jet-black iPhone 7 Plus is favored by more people for its look and its two cameras, which provide a depth of field effect, it is the most in-demand product now, Wang said.
"We resell it at 20,000 yuan each and fans may accept the price because it is impossible to buy in the store right now," he said.
This product is priced at 7,188 yuan with 128 GB and 7,988 yuan with 256 GB on Apple's official website, which said phones will be delivered in November.
It is quite normal for iPhone scalpers raise the prices for the new iPhones because of low inventories in stores, which can't meet demand immediately after the iPhone 7 products were unveiled, Liu Dingding, a Beijing-based independent industry analyst, told the Global Times on Sunday.
"But there will be fewer iPhone scalpers who make a profit through reselling those products in a month," Liu predicted.
Also, fewer fans have lined up for the new products this year, compared with years before, iPhone scalpers outside the store told the Global Times.
A 25-year-old man surnamed Zhang spent few minutes listening to an employee in the Apple store making a presentation of the iPhone 7, and left without preordering anything online.
"The only new feature attractive to me is the camera system of the iPhone 7 Plus, but I am not ready to buy," Zhang said.
Still, some customers who ordered the new products online said they did so because they are regular users of Apple products.
"For example, the iPhone's 'Siri' function is convenient for making a call or sending messages," a student in Beijing who only gave his surname as Lin told the Global Times on Sunday.
"But the only differences between iPhone 7 smartphones and iPhone 6S Plus models are that the latest ones offer a solid-state home button and it sounds louder," Lin said.
A lack of innovation has become a major hurdle for Apple to gain market share in China, especially when domestic brands have been rising in recent years, Liu noted.
"The reduced enthusiasm for the new iPhone 7 products shows Chinese buyers are becoming more rational, and they also have more choices," Liu said.
The top domestic smartphone vendors, Huawei, OPPO and Vivo, had 46.6 percent of China's smartphone market in the second quarter of 2016, which reflects their brand-building efforts and aggressive marketing strategies, International Data Corp (IDC) said in a report released in August.
Meanwhile, Apple continued to decline in terms of its shipment volumes, according to the report.
With 19.1 million units shipped, Huawei was the No.1 vendor in the Chinese market, holding a 17.2 percent share in the second quarter of 2016, the IDC report noted.
Next came OPPO and Vivo, which reported 18 million and 14.7 million units shipped, respectively. They held market shares of 16.2 percent and 13.2 percent. Apple, which recorded 8.6 million units shipped during this period, was ranked fifth after Chinese tech firm Xiaomi, according to the report.
The crackdown on parallel goods trading activities in Shenzhen, South China's Guangdong Province, neighboring Hong Kong, kicked off after the new iPhone products were unveiled. The local customs confiscated about 400 iPhone 7 and iPhone 7 Plus phones, worth more than 3 million yuan, according to Guangzhou Daily on Sunday.