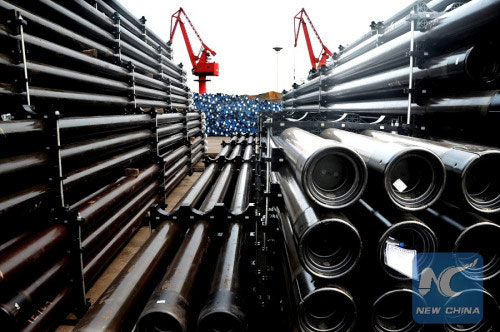 Photo taken on Aug. 1, 2015 shows steel tubes at a dock in Lianyungang Port, east China's Jiangsu Province. [Photo: Xinhua/Wang Chun]
China is reportedly considering a sweeping overhaul of its steel industry that would consolidate major steel producers into two giants, with one located in the north and the other in the south.
That is part of a latest Bloomberg's report, citing people familiar with the plan.
The informed source said Shanghai Baosteel Group Corp and Wuhan Iron &Steel Group Corp will be merged into Southern China Steel Group, while Shougang Group and Hebei Iron &Steel Group will combine into Northern China Steel Group.
Smaller steel companies could later be absorbed into the two new groups once they are established.
The plan has yet to win formal approval.
China's cabinet, or the State Council, issued a guideline on restructuring and reorganization of State-owned enterprises last Tuesday.
According to the guidelines, related departments and industries are asked to steadily promote restructuring of enterprises in fields such as electric power, steel and iron, to efficiently cut excessive overcapacity and encourage restructuring of State-owned enterprises.
Media say China promises to cut the overcapacity of 45 million tons in the steel industry in 2016, but over the past seven months, it has only finished 30 percent of its goal.
A recent survey by Renmin University shows that over half of China's steel corporations are zombie companies.
For more, CRI's Shane Bigham spoke earlier with John Ross, senior fellow at Chongyang Institute of Financial Studies, Renmin University.