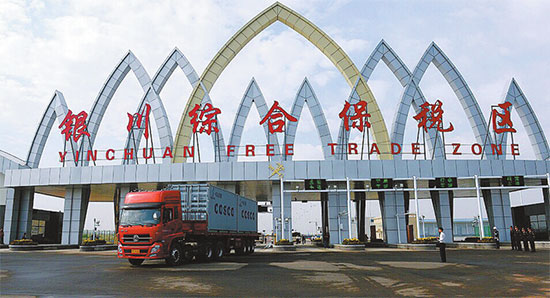 Yinchuan Comprehensive Bonded Zone(Photo Source: Yinchuan Evening News/Qu Xiaofei)
BEIJING, July 14 -- The Yinchuan Comprehensive Bonded Zone in northwest China's Ningxia Hui Autonomous Region is accelerating construction of its cross-border trade platform, according to local media reports.
As a zone with special customs supervision under the most complete opening-up policy, and also the first experiment zone in finance, trade, investment, services, transportation and other fields, the Yinchuan Comprehensive Bonded Zone registered 108 Customs-approved enterprises at the end of last year.
As a result, its import and export volume reached 1.73 billion U.S. dollars in 2014.
This year, the trade volume target of the zone is set at 2 billion U.S. dollars, up 15 percent over 2014.
It has learned that this year Yinchuan Comprehensive Bonded Zone will accelerate construction of the cross-border trade e-commerce platform, boost cross-border trade e-commerce export business, and explore cooperation and exchanges with Dubai Jebel Ali Free Trade Zone through strengthening of cross-border business and innovation to build the Net of "Sino-Arab Silk Road".