Falling rise in subscribers signifies possible mobile saturation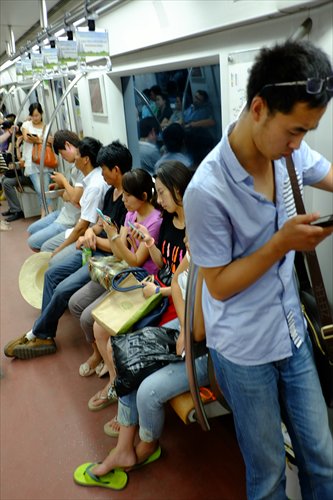 Passengers use mobile phones on the Beijing subway. Photo: by Tang Tengfei/GT
China Mobile, the country's biggest telecom carrier by subscribers, reported Monday 2.46 million net additional customers in August, a record-low rise so far this year, which analysts said is a reflection of China's gradually saturated handset market.
According to the operating data unveiled by the company on its website, it added 2.46 million new users to bring its total subscribers to 796.03 million as of August. The net user growth for all telecom carriers in July was 2.96 million.
China Mobile is not the only one that is struggling. The number of new China Unicom subscribers also kept dropping to 640,000 in August from 890,000 for the previous month, according to a filing posted by the second-largest telecom operator on the Shanghai bourse over the weekend.
"Almost everyone in China has one or two mobile phones for usage, making it hard for the three domestic State-owned telecom carriers to continue seeing strong net growth in new users," said Xiang Ligang, CEO of telecom information portal cctime.com.
China's mobile phone penetration rate would likely pass 110 percent this year, said Xiang.
The three telecom carriers will devote more efforts to developing new services such as 4G to maintain their current subscriber base as well as attract users from each other, signifying fiercer competition in the foreseeable future, Fu Liang, a Beijing-based independent telecom expert, told the Global Times Monday.
China Telecom appears to have already sensed the necessity of fast-tracking its 4G service expansion.
The company piloted its 4G service in 16 cities around the country in July, after it unveiled a net loss of 5.34 million users in the first half of the year "due to its rivals' proactive promotion of 4G services" in a financial report issued on September 15.
In August, the nation's third-largest telecom operator saw a slight net growth of 520,000 in mobile subscribers. Thereafter, it has reportedly furthered its 4G service to another 24 Chinese cities in early September. Meanwhile, China Unicom has announced in March its 4G service will cover 25 cities.
Despite China Unicom's and China Telecom's active efforts in the 4G field, China Mobile is way ahead due to its early entrance, said Xiang.
According to its financial report in late August, China Mobile has run 410,000 base stations for 4G service as of June. It will build over 500,000 4G base stations by the end of the year, China Mobile's chairman Xi Guohua said on the company's Sina Weibo account on September 16.
By contrast, China Unicom reportedly plans to build 100,000 base stations for homegrown 4G standard TD-LTE by the end of the year.
"China Mobile is likely to reverse its downward trend in the 3G market through the faster network," Xiang noted.
According to Xiang, China Mobile suffered a decline in 3G market share because popular foreign mobile brands, including Apple, refused to adopt the homegrown 3G standard, as the government has tasked it with popularizing the TD-LTE and TD-SCDMA (a homegrown 3G standard) platforms.
China Mobile continued a strong run in August with robust gains in 4G subscribers, which totaled 29.6 million as of August, up 20.4 million by the end of July.
But Fu is concerned that although China Mobile has got a leg up on the other two in the 4G era, the company is still faced with the urgency of seeking a new business model to meet the threat from the booming over-the-top (OTT) service like its counterparts do.
"When its comes to business reform, China Unicom and China Telecom, latecomers in the 4G market, are more active and open to cooperation than China Mobile," said Fu.
【1】
【2】