Myanmar's Aung San Suu Kyi visits NW China's Shaanxi Province
(
Xinhua
) 09:12, August 21, 2016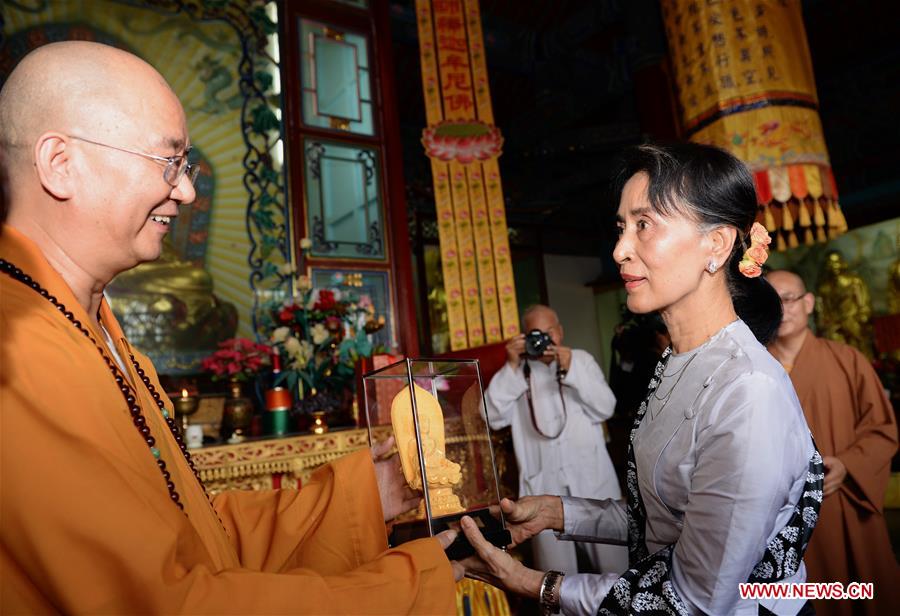 Myanmar's State Counsellor Aung San Suu Kyi (R) visits the Famen Temple in Baoji City, northwest China's Shaanxi Province, Aug. 20, 2016. Aung San Suu Kyi began a five-day official visit to China on Aug. 17. (Xinhua/Li Yibo)
Myanmar State Counselor Aung San Suu Kyi visited the Emperor Qin's Terracotta Warriors and Horses Museum in northwest China's Shaanxi Province on Saturday.
The state counselor arrived in Xi'an Saturday morning in her second stop during her five-day visit to China.
The army of Terracotta Warriors was built to guard the tomb of China's first emperor, Qin Shi Huang.
Praising the Terracotta Warriors as beautiful and inspiring, Suu Kyi said she "especially loved the beautiful horses," when leaving a message in the visitors' book.
She also visited the Famen Temple Saturday afternoon.
China is the first country that Suu Kyi has visited out of the ASEAN, since she took office in April.
【1】
【2】
【3】
【4】
(Editor: Kong Defang,Bianji)
Related reading