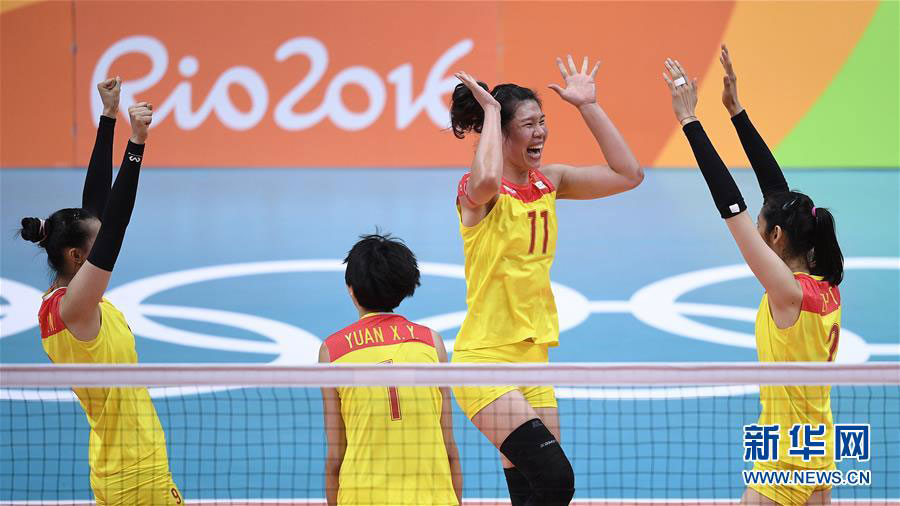 The Chinese women's volleyball team players celebrate during the final game against Serbia at the 2016 Rio Olympic Games in Rio de Janeiro, Brazil, on Aug. 20, 2016. [Photo: Xinhua]
Zhu Ting propelled China to a 3-1 (18-25, 25-17, 25-23, 25-23) victory over Serbia to claim the gold medal of the women's volleyball tournament at Rio 2016 Olympic Games on Saturday.
Zhu, who was named the Most Valuable Player, finished as the top scorer of the competition with a total of 179 points including a tournament-high 33 in the semifinals against the Netherlands. She capped her participation with 25 points as the main Chinese weapon in the triumph.
China climbed to the top of the podium for the third time in the history of volleyball at the Olympic Games and first since Athens 2004. They also won the gold medal in Los Angeles 1984, a silver medal in Atlanta 1996 and bronze medals in Seoul 1988 and also at home in Beijing 2008.
China's Lang Ping became the first to win a gold medal as a player in Los Angeles 1984 and repeat the feat now as a coach.
The silver medal for Serbia is their best finish in three Olympic appearances after concluding fifth and 11th in Beijing and London, respectively.
China's Hui Ruoqi and Xu Yunli contributed 13 and 12 points in the victory, while Yuan Xinyue added 9, including three blocks.
Tijana Boskovic and Milena Rasic were the top scorers for Serbia with 23 and 16 points, respectively, and Tijana Malesevic and Brankica Mihajlovic finished with 11 apiece in the loss.
The fourth set was a close battle until Zhu scored twice for a 16-13 lead. With Mihajlovic and Boskovic both on the bench, Serbia closed in to 19-18 with consecutive spikes by Malesevic and Veljkovic. Serbia tied at 20-all via opponent error. Then at 23-all, Rasic served out of bounds and China won 25-23 with the spike by Hui.
"We faced a very tough opponent but we concentrated on each point, one by one," said Hui.
【1】
【2】