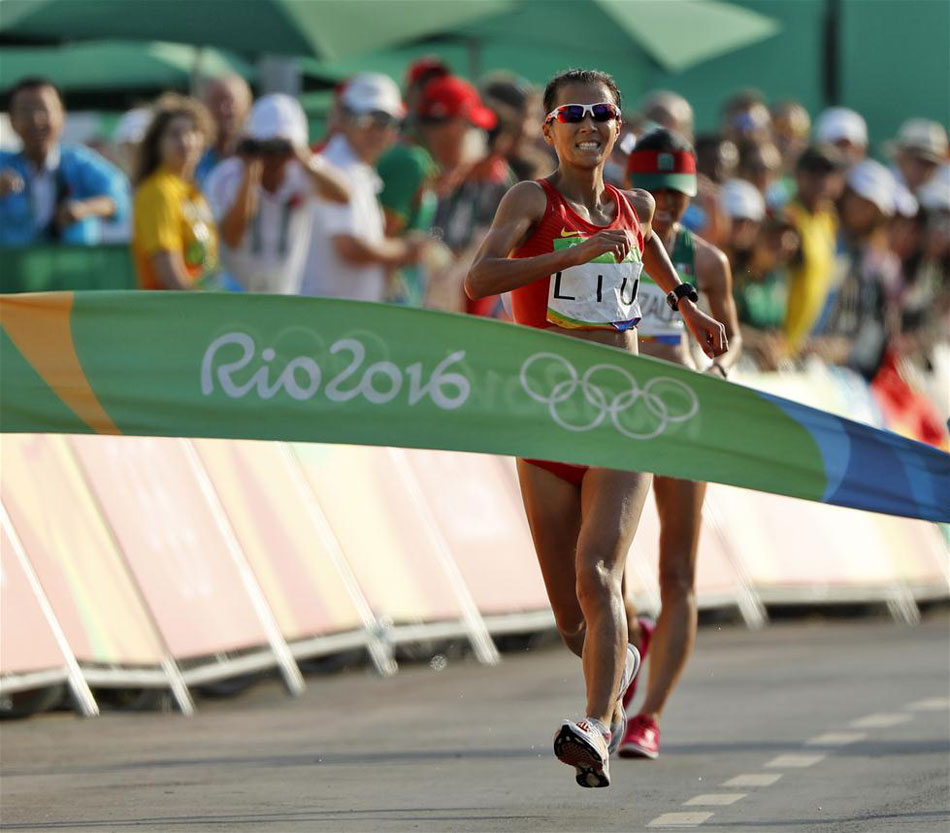 With a time of 1:28:35, Liu Hong of China claims the Gold in the Women's 20k Walk Race at the Rio Olympics on August 19, 2016. Mexico's Maria Guadalupe Gonzalez wins silver, and China's Lv Xiuzhi wins bronze. [Photo: Xinhua]
Liu Hong's long wait for an Olympic medal ended on Friday when the Chinese world record holder won a thrilling 20km race walk at the Rio Games.
The 29-year-old clocked one hour 28 minutes and 35 seconds to beat Mexico's Maria Guadalupe Gonzalez by just two seconds.
China's Lu Xiuzhi took bronze, only seven seconds behind her teammate.
"It was hard because the weather wasn't that good," Liu said of the hot conditions. "The only thing I could do was keep going, do my best and try to make it perfect."
Gonzalez became the only second woman representing Mexico to claim an Olympic medal in athletics, following the silver medal by Ana Guevara in the women's 400m in 2004.
"I feel good. I was hoping to get the gold and I raced as hard as I could and gave it everything. But I am happy. Next time I will have to race harder," she said.
Italy's Antonella Palmisano was fourth and China's Qieyang Shijie fifth.
Liu finished fourth in the race at both the Beijing 2008 and London 2012 Olympics. She rebounded from those setbacks by posting a world record of 1:24:38 in Spain last year.
"It means a lot to me. I have been doing this sport for more than 10 years now," Liu added. "This time I was doing my best to get a medal and I am pleased I could get the gold."
【1】
【2】
【3】
【4】
【5】
【6】