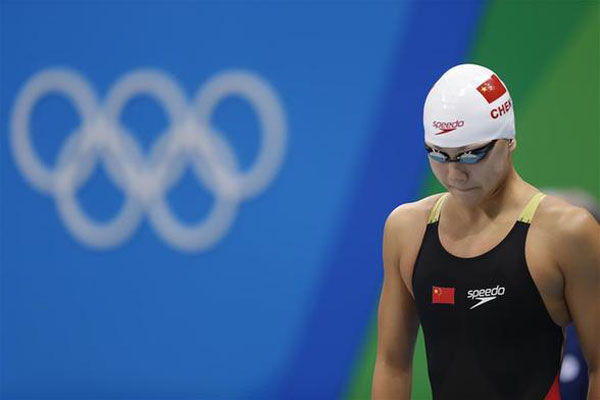 A file photo shows Chinese swimmer in a match. [Photo: Xinhua]
The Court of Arbitration for Sports (CAS) has handed down a provisional suspension to Chinese swimmer Chen Xinyi, after her 'B Sample' failed to pass the doping test.
The Chinese Swimming Association (CSA) released a statement on Thursday expressing its respect for the ruling, and pledging to further investigate the issue.
The CSA confirmed on August 12 that Chen's 'A Sample' tested positive for Hydrochlorothiazide during a doping test carried out by the Rio Olympic Organization Committee on August 7.
The Chinese Olympic delegation has also demanded the Chinese swimming body begin a full investigation into the matter in order to clarify the facts and seek out the truth. It said that the delegation would punish those responsible in accordance with the truth and law.
The 18-year-old had earlier won a fourth place in the women's 100m butterfly at this year's Rio Olympics.
Hydrochlorothiazide is a diuretic that is generally used as antihypertensive drug. The drug cannot improve the agility of an athlete, but by enhancing their metabolism they can discharge more urine, hence reducing the competitor's weight.
The drug was added to the list of banned drugs in 2016.
Athletes who are tested for drugs must supply two samples – A and B. The A sample is tested first to determine if a doping offense has occurred. If that first sample tests positive then they test the B sample. If both samples test positive, there is an automatic suspension.