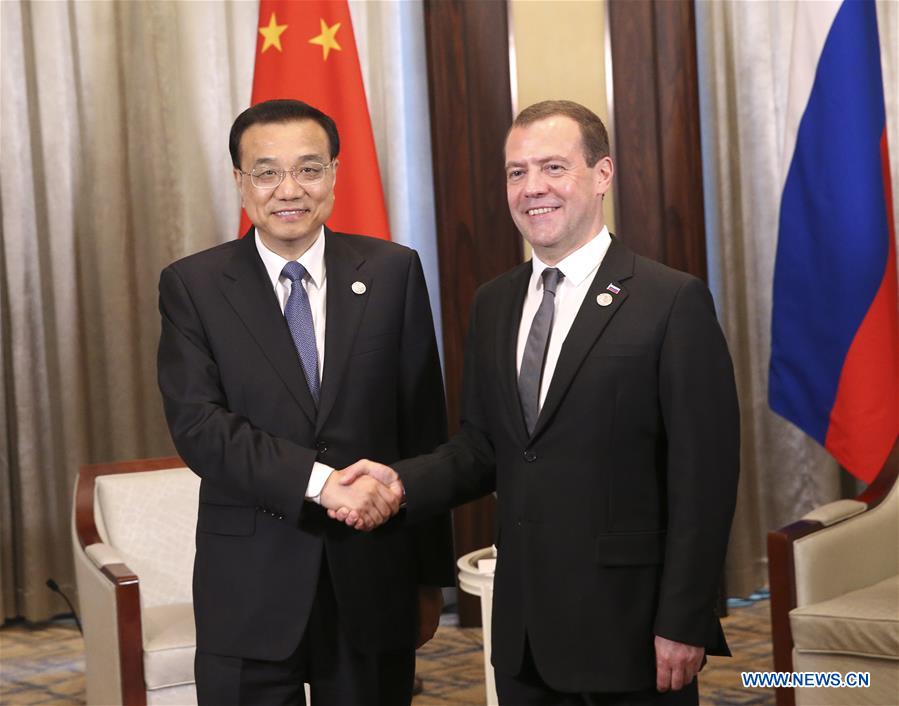 Chinese Premier Li Keqiang(L) meets with Russian Prime Minister Dmitry Medvedev in Ulan Bator, Mongolia, July 15, 2016. (Xinhua/Pang Xinglei)
ULAN BATOR, July 15 -- Russia opposes internationalization of the South China Seadisputes or any interference from forces outside the region, Russian Prime Minister Dmitry Medvedev said on Friday.
Medvedev made the remarks during a sideline meeting with Chinese Premier Li Keqiang at the 11th Asia-Europe Meeting (ASEM) Summit in the Mongolian capital.
The Russian side supports the China-initiated principles of resolving the disputes, Medvedev said, calling for bilateral negotiations and consultations between directly relevant parties to solve the issue.
On bilateral relations, the two leaders agreed to strengthen economic cooperation and hold the regular prime ministers' meeting in the second half of this year in Russia.
With highly complementary economies, China and Russia should expand two-way investment, improve trade structure and financial services, Li said.
Trade between the two countries has shown positive signs, while major cooperation projects of strategic significance have seen great progress, the Chinese premier said.
To increase the trade volume, China and Russia should consolidate and expand their cooperation in the field of traditional energy based on the principle of sharing risks and benefits, Li said.
Li also called on the two sides to hold active discussions on industrial production capacity cooperation as well as seeking three-party cooperation so as to lift their win-win cooperation to a higher level.
As this year marks the 15th anniversary of Sino-Russian Good-Neighborly Treaty of Friendship and Cooperation, China stands ready to consolidate mutual trust and deepen practical cooperation with Russia and intensify interaction in international and regional affairs, Li said.
"China will collaborate with Russia within the frameworks of ASEM and the Shanghai Cooperation Organization to safeguard common interests and promote peace and development in both countries, Eurasia and the world at large," Li said.
Medvedev said Russia and China enjoy a high-level comprehensive strategic partnership of coordination, as evidenced by the unprecedented mutual political trust and frequent high-level exchanges.
He said Russia-China relations are in a great period with smooth progress in major projects and promising trade ties.
【1】
【2】