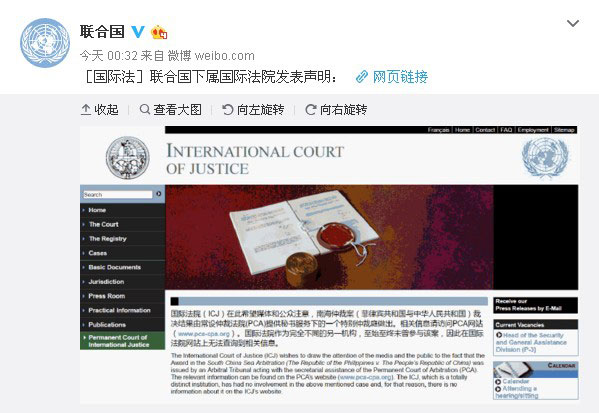 A screenshot of the official Sina Weibo account of the UN which states that the Hague-based Permanent Court of Arbitration independent from the UN. [Photo: Weibo.com]
The United Nations has made it clear that it had nothing to do with the Hague-based Permanent Court of Arbitration (PCA), which issued an ill-founded award on Tuesday through the abuse of law on the arbitration case unilaterally initiated by the Philippines against China in 2013.
In a post on its official Twitter-like Sina Weibo account on Wednesday, the United Nations pointed out that the International Court of Justice (ICJ) is the UN's principal judicial organ, which was set up in June 1945 in accordance with the Charter of the United Nations.
The post added that the ICJ is a totally distinct institution from the PCA and it had no involvement in the above mentioned case.
In fact, the PCA in The Hague just happens to be neighbors with the ICJ, as both are located in the Peace Palace in The Hague in the Netherlands. Of the six major organs of the United Nations, the ICJ is the only one located outside New York City in the United States, the headquarters of the United Nations.