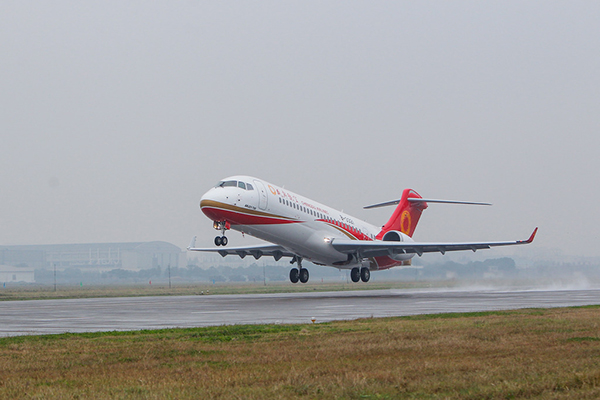 Undated photo shows an ARJ21 aircraft taking off.
A domestic regional aircraft ARJ21 has received its largest single commercial order at the 50th Farnborough International Air Show in the UK.
The Commercial Aircraft Corporation of China, Ltd. (COMAC) got the order of 90 ARJ21 aircrafts on Monday.
A tripartite cooperative agreement was signed by COMAC, China Aircraft Leasing Group (CALC) and Friedmann Pacific Asset Management Limited (FPAM).
CALC will purchase 60 ARJ21-700 series aircrafts from COMAC, and will act as an aircraft lessor to provide leasing solutions to an Indonesian-based airline company, which is subordinate to FPAM, in building its ARJ-21 fleet, according to the agreement.
At the same time, Avic Leasing Company will also purchase 30 ARJ21 aircrafts from COMAC.
This is the largest order of ARJ21 aircrafts for COMAC since its commercial operations on June 28 this year.
COMAC General Manager He Dongfeng said the company is now actively exploring the market both at home and abroad.
While Executive Vice President of CALC Liu Wanting also said they will work together with FPAM for ARJ21's entering into international market.
Till now, the number of ARJ21's client companies has been up to 18 and the total orders of ARJ21 have reached 308.