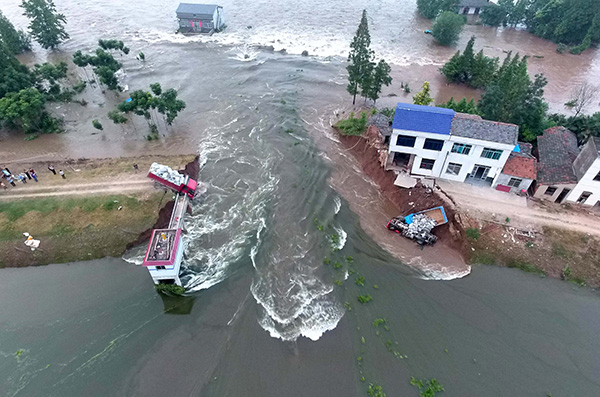 Trucks loaded with stones fell into the gap of a broken dike in Huarong county, Hunan province, on Sunday. Drivers had to jump seconds before their vehicles were engulfed by the water. LI GA/XINHUA
Super typhoon Nepartak will pose more challenges to flood prevention in the Yangtze River Basin, especially its lower reaches, after flooding there killed 161 and left 61 missing.
According to the Yangtze River Flood Control and Drought Relief Headquarters, flooding has affected 49 million people in the Yangtze basin, with 2.9 million evacuated since the flood season began this year. The flooding has resulted in economic losses of 103 billion yuan ($15.4 billion). Most of the losses came after June 30.
On Sunday, floods destroyed one part of an embankment in Xinhuayuan, Hunan province. At the end of the day, more than 21,000 of the 27,488 residents had been evacuated. To prevent flooding, 10 trucks loaded with stones were driven to the damaged part of the embankment, which was expected to be rebuilt late on Monday, according to Beijing Youth Daily.
Nepartak made landfall on Saturday in Fujian province, and the average water level in Taihu Lake in Anhui province reached 4.81 meters at 2 pm on Monday, only 0.4 meter below its maximum safe level. Ten rivers in Fujian province saw their water rise above the warning level, the Ministry of Water Resources said on its website.
The super typhoon has killed nine people and left 18 missing in Fujian province as of 9 am on Monday. Direct economic losses from the typhoon reached 900 million yuan, and 213,000 people were evacuated, according to a statement on the Ministry of Civil Affairs website.
More storms are expected in the Yangtze basin in late July. Jiangxi, Anhui, Jiangsu province and Shanghai municipality will be affected by the super typhoon as it moves northward, said Chen Min, director of the Office of Yangtze River Flood Control and Drought Relief Headquarters.