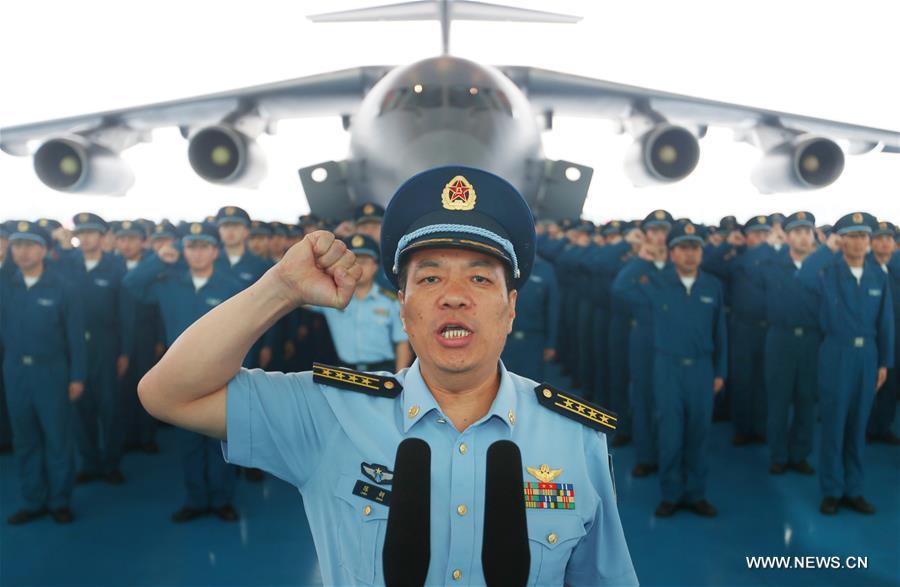 Chen Gang (front), a division commander of the People's Liberation Army (PLA) Air Force, takes the oath during the hand over ceremony of the Y-20, China's homegrown large transport aircraft, in Chengdu, capital of southwest China's Sichuan Province, July 6, 2016. Y-20 officially joined the People's Liberation Army Air Force on Wednesday. (Xinhua/Liu Yinghua)
CHENGDU, July 6 -- Painted grey and carrying national flags and yellow serial numbers on their tails, two Y-20 planes, China's homegrown large transport aircraft, officially joined the People's Liberation Army Air Force on Wednesday.
With a maximum takeoff weight of around 200 tonnes, the Y-20 is ideal for transporting cargo and people over long distances in diverse weather conditions.
Designed and manufactured by state-owned aviation giant the Aviation Industry Corporation of China (AVIC), the Y-20 took its maiden flight in January 2013, and made its debut at the 10th China International Aviation and Aerospace Exhibition in November 2014.
Last month, the first two Y-20 planes were delivered to the Air Force, after five years of design and manufacture as well as another four years of test flights.
According to the AVIC, the time between the start of the design and the Y-20's flight was around half that of similar aircraft in other countries.
"China has joined the few nations capable of indigenously developing 200-tonne-level large transport aircraft," said Geng Ruguang, vice general manager of the AVIC and the general director of the Y-20 project.
Officially codenamed "Kunpeng," after a Chinese mythical bird that can fly for thousands of kilometers, the Y-20 has got the nickname "Chubby Girl" for its deep and wide fuselage.
The fuselage is designed to hold more cargo and larger equipment, which also enables the Y-20 to be developed into other variants in the future, according to the AVIC.
"To enhance national strength, China must build up its ability of indigenously designing and producing large aircraft and strengthen its air transport," said Tang Changhong, chief designer for the Y-20.
Addressing a ceremony for handover of the planes on Wednesday, Central Military Commission vice chairman Xu Qiliang congratulated those who contributed to the research and production of the aircraft.
Xu also called for better aviation design and manufacturing, and fostering personnel for equipment maintenance.
"The Y-20 entering into service marks a crucial step for the Air Force improving its strategic power projection capability," said Air Force spokesperson Shen Jinke.
The Air Force needs more and better transport to better fulfill its military responsibilities, including safeguarding national security as well as domestic and international rescue and relief work, Shen added.
The Air Force has carried out many airdrop and evacuation tasks responding to earthquakes, floods, fires and storms in China.
It has also provided aid and delivered relief supplies to Pakistan, Mongolia, Thailand, Nepal and other countries as they were hit by disasters in recent years.
The Y-20 will form a powerful arm of the Air Force and help to boost China's image as a responsible power, said Wang Mingliang, professor with Air Force Command College.
In 2006, developing large aircraft was listed as a national key sci-tech project. A decade on, China is eying accelerated development of large aircraft, with the task having been written into the 13th Five-Year Plan, the country's blueprint for the next five years, in March.
"The delivery of the Y-20 marks the realization of a Chinese aviation dream going back decades, and a major breakthrough in sci-tech innovation and high-end equipment manufacturing in China," said Geng Ruguang.
【1】
【2】