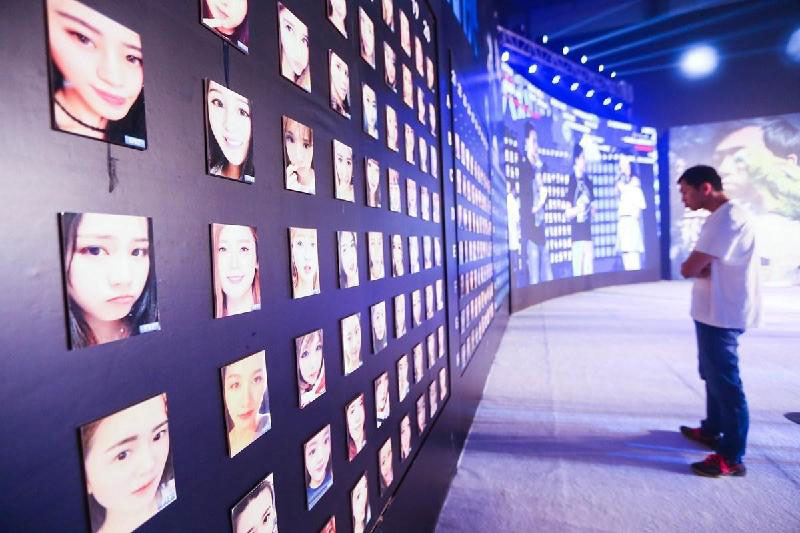 Wang Yiheng examines photos during a facial recognition contest held in Hangzhou, capital of East China's Zhejiang province, June 30, 2016. [Photo: gmw.cn]
A contest on facial recognition between an artificial intelligent biometric machine and a man took place on Thursday in Hangzhou, capital of East China's Zhejiang province.
"Mark", the AI biometric machine, lost to Wang Yiheng, a former contestant in the game show The Brain, in a three-round contest where the two competed in recognizing large numbers of photos of the faces of cyber celebrities.
In the first round where "Mark" and Wang were requested to identify the faces of cyber celebrities present at the contest from 150 photos, "Mark" beat Wang by six minutes. In the second round, the two were asked to identify 300 photos and the AI machine lost by just more than a minute. The scores were even in the third round.
Wang first shot to prominence in the second season of The Brain, a TV program which shows people with exceptional brainpower, in 2015. He once correctly picked out a specific cup of water from 520 cups and identified four lip prints from 700 lipstick prints.
"Mark" is the brainchild of Zhejiang Ant Small &Micro Financial Services Group, e-commerce giant Alibaba's financial affiliate. It can be used in verification of ID in online finance and it can identify images one-on-one in ID verification, account logging, or password recovery, which is unlike the search for one facial image from a reservoir of photos, according to its developer team.
【1】
【2】
【3】