Cartoon commentary, Xi's Europe-Asia tour ⑤: Milestone for China-Poland ties
(
CNTV
) 10:27, June 23, 2016
By Xu Xiujun, deputy director of International Politics and Economics Department, Institute of World Economics and Politics, Chinese Academy of Social Sciences; cartoon drawing by Liao Tingting, Chi Ying
On June 20, Chinese President Xi Jinpingattended the grand welcoming ceremony hosted by Polish counterpart, Andrzej Duda at the Presidential Palace during a state visit to Poland.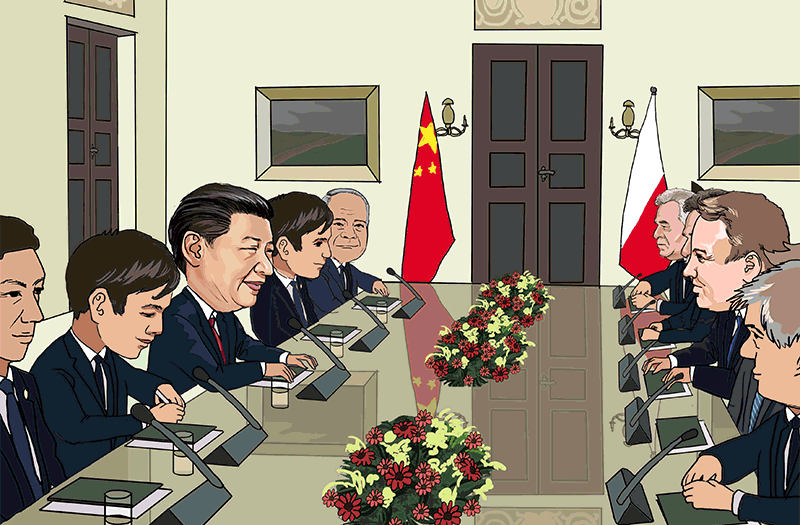 (Source: english.cctv.com)
The two leaders have agreed to upgrade the China-Poland ties to a comprehensive strategic partnership, while witnessing the signing of cooperation deals on information connectivity, infrastructure construction, and productivity.Both heads of state had attended the opening ceremony of the Silk Road International Forum and China-Poland Regional Economic and Trade Cooperation Forum, as well as an arrival (in Warsaw) ceremony of the first CHINA RAILWAY Express freight train.Xi also met with Polish Prime Minister Beata Szydlo and legislators of Polish parliament. Xi's trip marked a milestone for bilateral relations.
The upgraded partnership conforms with the times, providing a new impetus for both sides to deepen cooperation in all fields and to usher in genuine benefits for the two nations.
The visit served as a breakthrough in the promoting a closer synergy of the Belt and Road construction strategies of both nations, offering a new paradigm of cooperation within the framework of the Belt and Road Initiative. The visit has expanded pragmatic cooperation under the framework of the "16+1 Cooperation," setting new examples for stronger ties between China and Central and East European countries.
(Editor:Huang Jin,Bianji)
Related reading