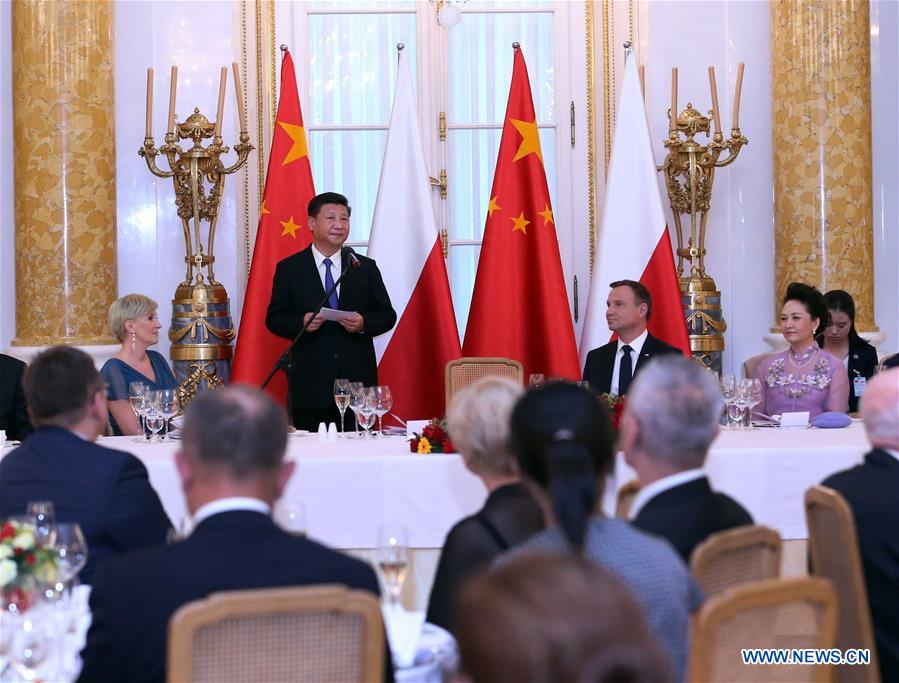 WARSAW, June 20, 2016 (Xinhua) -- Chinese President Xi Jinping(2nd L, rear) attends the welcome banquet held by Polish President Andrzej Duda (3rd L, rear) in Warsaw, Poland, on June 20, 2016. (Xinhua/Liu Weibing)
WARSAW, June 20 (Xinhua) -- Chinese President Xi Jinping highlighted the long-standing friendship between his country and Poland at a welcome banquet held here Monday in his honor by Polish President Andrzej Duda.
Xi, addressing the banquet, recalled that during World War II, Polish fighter pilot Witold Urbanowicz fought in China as a member of the allied forces assisting China, and Dr. S. Flato traveled long distances to provide medical support to China.
The Chinese people, he said, will remember that Poland was among the first countries to recognize and establish diplomatic ties with the People's Republic of China and provided assistance and support for the country's reconstruction.
At present, China and Poland enjoy ever solid political mutual trust, blossoming mutually beneficial cooperation and ever closer exchanges in all areas, which has brought tangible benefits to the two countries and peoples, Xi said.
China-Poland relations, he said, stand at a new stage of history and are blessed with fresh historical opportunities.
Xi said China is ready to take the opportunity of the establishment of a comprehensive strategic partnership to work with Poland to strengthen the synergy of their development strategies, deepen practical cooperation and open up a brighter future for bilateral ties on the basis of mutual respect, equality and mutual benefit.
Duda, for his part, said that though Poland and China are geographically far apart, their friendly interaction dates back to a long time ago, and that China's Belt and Road Initiative has brought the two countries closer to each other.
Poland is willing to dovetail its sustainable development strategy with the Belt and Road Initiative and deepen mutually beneficial cooperation in all fields, the Polish president said, adding that Poland-China cooperation will bring Europe and Asia closer to each other.
The Chinese president traveled from Serbia to Poland on Sunday. His ongoing three-nation Eurasia tour will also take him to Uzbekistan.