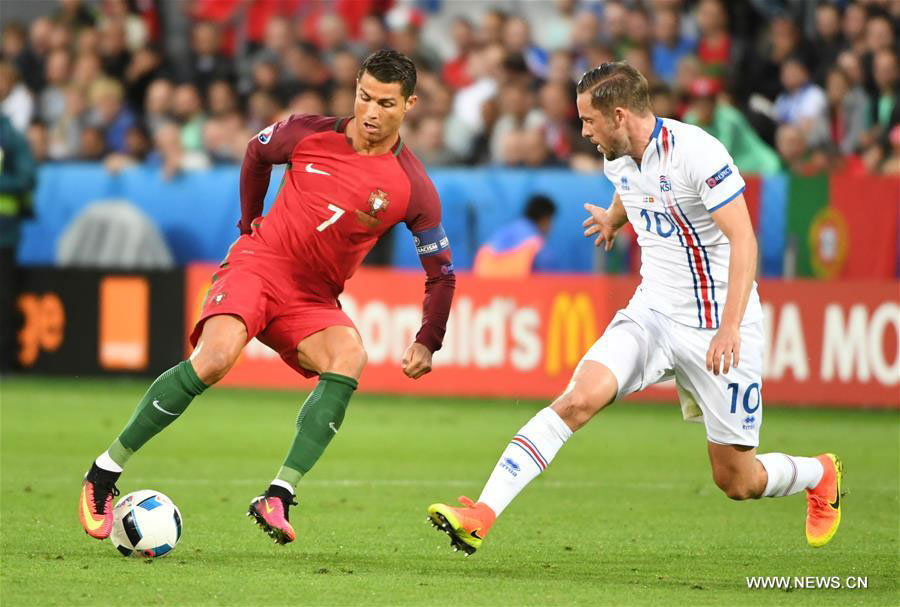 Cristiano Ronaldo (L) of Portugal competes during the Euro 2016 Group F soccer match between Portugal and Iceland in Saint-Etienne, France, June 14, 2016. [Photo: Xinhua]
Hot favorites Portugal, centered by Cristiano Ronaldo, were held 1-1 tie by newcomers and minnows Iceland in their first match of UEFA EURO 2016 Group F on Tuesday.
Huge cheers roared out in the stadium as Iceland fans celebrated the first point from their first ever game at a major tournament.
Basel midfielder Birkir Bjarnason was the hero to earn the draw for Iceland as he volleyed home a pinpoint cross from Johann Gudmundsson in the 50th minute to level Portuguese forward Nani's low first-half finish.
Iceland coach Heimir Hallgrimsson said, "We always know about how strong Portugal are. They are one of the best and probably go further. It was really difficult against them."
"We are very organized and fought hard. It's down to team work. It's unfair to put one player to stop a guy like C. Ronaldo. There must be a team effort closing the areas," Hallgrimsson added.
"That's our first time qualified. It's really good to have one point. It's better not to lose the first game," he said.
In the 31st minute, midfielder Andre Gomes received the ball on the right of the penalty area and fed a timing across for Nani to steer home his 18th goal for Portugal.
Built around superstar C. Ronaldo, Portugal topped the 5-team qualifying group composed of Albania, Denmark, Serbia and Armenia with seven wins and one loss. But they only managed to win by one goal margins, finishing the qualifying tournament with 11 goals scored (five by C. Ronaldo) and five conceded. They have to rely on moments of magic to score.
Portugal coach Fernando Santos put C. Ronaldo and Nani in the front and defending players in the midfield, praying the two star strikers' personal skills to break down Iceland's defense.
Santos told reporters after the game that it is always difficult in playing the first game. "We will bounce back to play two great matches next."
"We are to blame for the first half. We have a lot of scoring chances and I don't remember if Iceland have one chance," he said.
The 21st minute saw an excellent chance for Portugal as the two strikers combined brilliantly. C. Ronaldo bewitched Saevarsson with some fine footwork on the byline before crossing. Nani peeled away from his marker and got enough on his header, only to see Iceland keeper Hannes Halldorsson repel it with a fine stop.
A nation with a population of barely 330,000, Iceland became the smallest country to qualify for the EURO 2016 finals. A well-organised defense kept six clean sheets in the qualification, including twice against the Netherlands.
【1】
【2】
【3】
【4】