China's Terracotta Warriors
Editor's note: Located roughly one hour outside the city of Xi'an in northwest China, an army of Terracotta Warriors guards the tomb of Qin Shi Huang, the country's first emperor. First discovered in 1974 by a local peasant, the Chinese government began coordinating an excavation, bringing in local workers to unearth the warriors who'd been buried over 2,000 years ago. At the time of their discovery, a number of the soldiers were badly damaged. Painstakingly reassembled, the first warriors went on display in 1979.
The largest pit contains a 3rd Century BC army standing in battle formation, with columns of infantry numbering in the thousands. A second pit includes archers, cavalry and additional infantry, while a third pit holds high-ranking officials.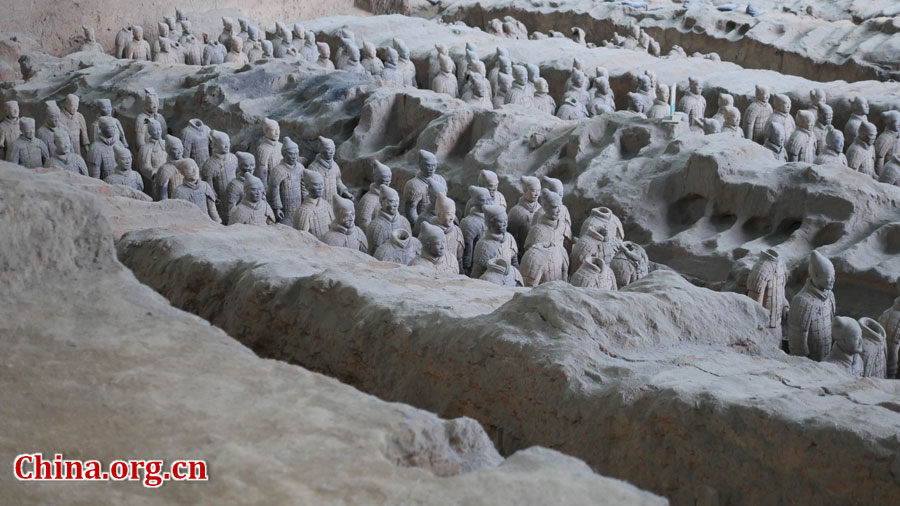 Terracotta infantry soldiers stand in battle formation, still guarding the tomb of China's first emperor. [Photo by Kyle Calandra / China.org.cn]
【1】
【2】
【3】
【4】
【5】
【6】
【7】
【8】
【9】
【10】
【11】
【12】
【13】
【14】
【15】
【16】
【17】
【18】
【19】
【20】
【21】
【22】
(Editor:Huang Jin,Bianji)