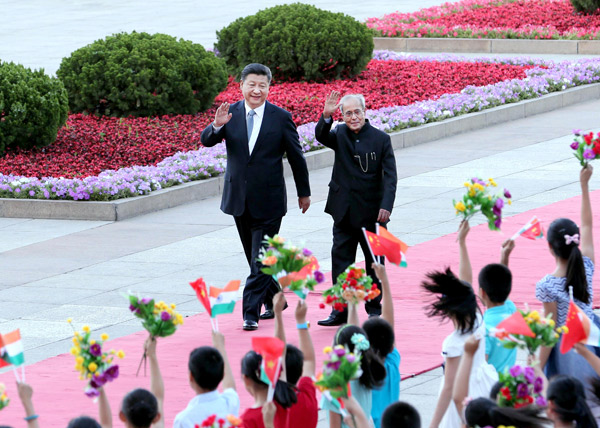 President Xi Jinping (left) welcomes visiting Indian President Pranab Mukherjee in Beijing on May 26, 2016. [Photo/Xinhua]
China and India have reiterated their commitment to maintaining peace in the border area ahead of a final settlement.
The commitment came on Thursday during Indian President Pranab Mukherjee's first state visit to China.
In a meeting with Mukherjee, President Xi Jinping said the two countries should make good use of various dialogues and mechanisms to enhance understanding and trust.
Disputes should be solved in a proper way, Xi said, stressing that mutual beneficial cooperation is the theme of the bilateral ties.
Mukherjee said India and China are two ancient civilizations and large emerging economies. Joint cooperation will not only promote their peace, prosperity and development but that of the world.
Sun Shihai, director of the Chinese Association for South Asian Studies, said Mukherjee's trip follows a visit to India by Xi in 2014 and seeks to convey the message that the two countries are ready to maintain the tempo of high-level interactions.
Sun said that while China is concerned with improving ties between India and other countries, including the US and Japan, Mukherjee's visit shows India's efforts to strike a balance in its relations with these countries.
At their meeting, Xi referred to his guest as a "seasoned statesman" and "an old friend of China".
Fu Xiaoqiang, an expert on South Asian studies at the China Institutes of Contemporary International Relations, said Mukherjee has a very good understanding of China.
He has visited China a number of times in different capacities. He has also met and interacted with top Chinese leaders, including Xi and Premier Li Keqiang, during their visits to India.
【1】
【2】