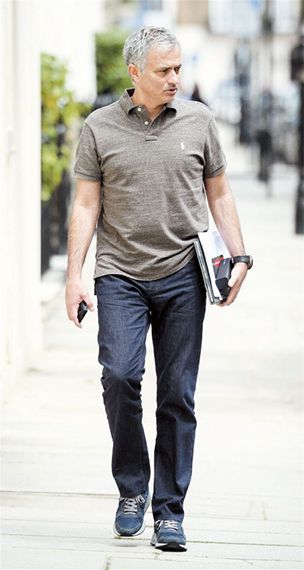 Portuguese manager Jose Mourinho is pictured as he returns to his home in London yesterday.
JOSE Mourinho was closing in on becoming Manchester United's new manager yesterday despite club great Eric Cantona saying incoming Manchester City boss Pep Guardiola would have been a better pick.
Mourinho's agent Jorge Mendes was in talks with United's executive vice chairman Ed Woodward, British media reported, less than 24 hours after Louis van Gaal's troubled two-year reign came to a sour end.
Former Chelsea boss Mourinho, one of football's most intriguing characters, would march into Old Trafford boasting a personal trophy haul that includes three English Premier League titles and two UEFA Champions League crowns.
But Cantona, whose goals helped fire United to four Premier League titles in the 1990s, said the defensive-minded Portuguese was the wrong man for the job, in an unexpected and incendiary intervention.
"Guardiola was the one to take," the Frenchman told The Guardian newspaper. "He is the only one to change Manchester (United). He is in Manchester, but at the wrong one."
Cantona's comments will only inflame the personal rancor between Mourinho and Guardiola. Mourinho would arrive at United just as Guardiola joins City from Bayern Munich, for his first taste of the Premier League.
When Mourinho was in charge of Real Madrid and Guardiola running its sworn enemy Barcelona, the Portuguese never missed an opportunity to take a swipe at the Spaniard.
However, Mourinho won just three of their 16 meetings.
"I love Jose Mourinho, but in terms of the type of football he plays I don't think he is Manchester United," said Cantona, who turned 50 yesterday.
"I love his personality, I love the passion he has for the game, his humor. But I don't think it's the type of football that the fans of Manchester United will love, even if they win."
Van Gaal was dismissed on Monday, less than 48 hours after winning the FA Cup: the price for failing to get one of the world's biggest clubs into the Champions League.
As unfancied Leicester won the title and with Arsenal, Tottenham and City ahead of it, United finished fifth in the Premier League and thereby missed out on a spot among Europe's elite.
That proved the final straw for the Glazer family, the club's United States-based owners.
Van Gaal, who said in a statement he was "very disappointed" by his sacking, agreed a severance package of 4.55 million pounds (US$6.5 million) on the final year of his three-year contract, The Times reported.
United's Dutch defender Daley Blind said Champions League winner Van Gaal, 64, had not always been well treated over the past six months and he would have liked to have worked with him more. "A manager like Louis van Gaal has achieved so much and therefore deserves more respect," he told Dutch newspaper De Telegraaf.