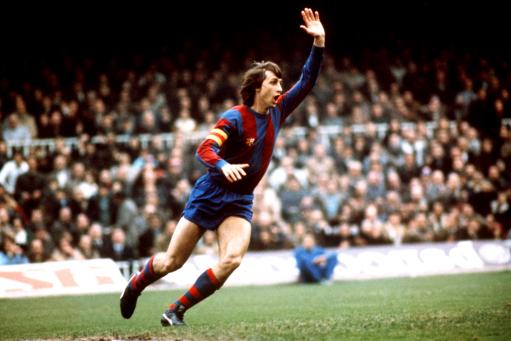 File photo of Holland football legend Johan Cruyff [Photo: sina.com.cn]
Dutch soccer legend Johan Cruijff, who was diagnosed with lung cancer, died in Barcelona on Thursday at the age of 68.
In October last year, Cruijff announced he had lung cancer. One month later he said he was convinced "he could win the battle".
"Johan Cruijff peacefully died in Barcelona, surrounded by his family after a hard fought battle with cancer," it was stated on his website. "It's with great sadness that we ask you to respect the privacy of the family during their time of grief."
Cruijff made name as a player in the early 1970s with Ajax, winning three European Champions Cups (1971, 1972, 1973) and the Intercontinental Cup in 1972. In 1974 he led the Netherlands to the World Cup final with an attacking style of play, called "Total Football". He continued his playing career at FC Barcelona, winning the Spanish title in his first season, Los Angeles Aztecs, Washington Diplomats, Levante, Ajax again, to end his career at Feyenoord.
After his playing career, Cruijff became a successful coach at Ajax and FC Barcelona. With Ajax he claimed the European Cup Winners Cup in 1987 and he led Barcelona to a period of great success with among other trophy's four league titles and their first European Champions Cup in 1992 with the so-called "Dream Team". He put an end to his managerial career in 1996, but never stopped expressing his vision on his loves Ajax, FC Barcelona and the Dutch national team.
Cruijff used to be a heavy smoker until 1991. After he was diagnosed with atherosclerosis at the age of 44 he had to undergo a bypass operation and quit smoking instantly.