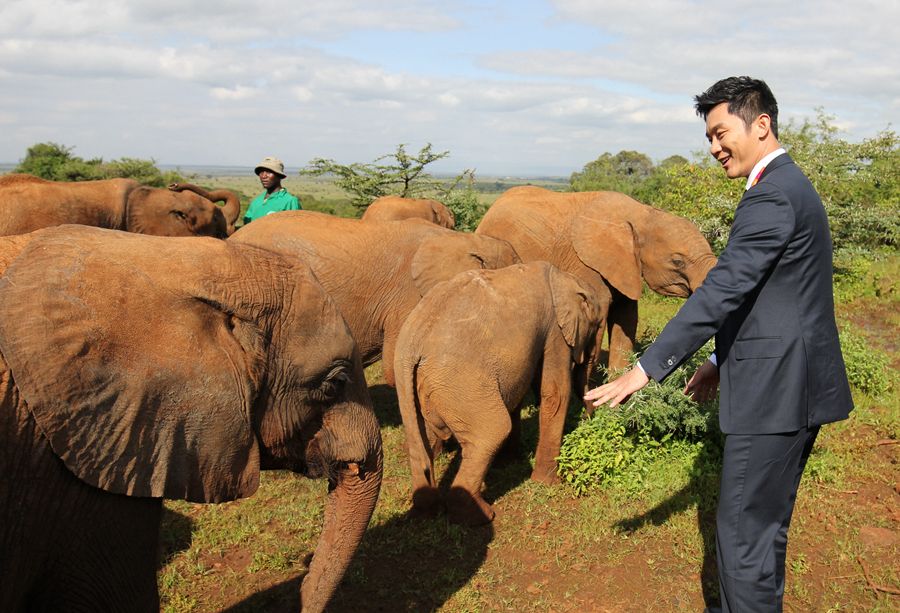 Li Chen, one of China's most popular actors, visits the David Sheldrick Wildlife Trust on May 24, 2016 in Nairobi, Kenya. [Photo: CRIENGLISH.com / Xing Yihang]
Li Chen, one of China's most popular actors, is in Kenya's Nairobi to attend the second session of the United Nations Environment Assembly (UNEA-2) and promote sustainable lifestyles to the public.
Arriving in Nairobi on Monday, Li attended an UNEA press conference on air quality and he will deliver a speech on China air quality roundtable discussions among scientists and representatives from the Beijing Environment Bureau, with his role of "Beijing Environmental Charity Ambassador".
Earlier on Tuesday, Li had visited the renowned David Sheldrick Wildlife Trust in Nairobi, where young elephants, many of whom have been orphaned due to poaching, are cared for and often returned to the wild.
With World Environment Day approaching, Li shared his wishes with the public, calling for actions against all the illegal wildlife trade through CRI.
"I hope all the people, including those who intend to buy the ivory products, can realize nowadays how harsh the living environment of the wildlife is. Please do not make them be killed only to fulfill the happiness that you want to buy the products made from them."
For the following activities he will attend in the UNEA-2, Li told the report that he want to make good use of his personal platform as a channel to call on sustainable lifestyles to the public.
Li Chen is among one of the most recognized faces in China and accounts over 40 million followers on Chinese social media networks among his many fans.
In 2015, Li became a celebrity partner of the United Nations Environment Programme. He has helped promote activities on World Wildlife Day and World Environment Day to call on the public to lead sustainable lifestyles and fight against the illegal wildlife trade.
【1】
【2】
【3】